STPs to be monitored on ability to contain A&E admission growth
Metric will become key measure of success for new care models
Vanguards to lose funding if emergency activity rises faster than target
Bed days will also become an important measure for judging health systems
Health systems will be held to account on how well they can contain the growth in emergency admissions and bed days over the next two years, NHS England has announced.
The level of emergency admissions will be a key new metric for sustainability and transformation partnerships, while new care model vanguard sites will be docked funding if they do not successfully reduce A&E activity.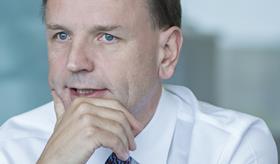 Next Steps on the NHS Five Year Forward View, published today, sets out how every STP area will begin "measuring and managing" emergency hospitalisation rates from April.
It states there is a "meaningful opportunity for improvement", particularly for conditions such as asthma and COPD, where admissions are "well above" the EU average.
Asked whether this meant the success of new care models was now largely being defined by their ability to cut emergency activity, NHS England chief executive Simon Stevens said: "Yes. There are a number of other health outcomes that are important and worthwhile, but in terms of helping with hospital pressures, we do have to see connection there."
In July, NHS England will publish metrics for each STP "benchmarking their emergency admission rates and bed days". The delivery plan says "CCGs will be held to account for improvement" on these measures.
On bed days, the document says non-elective bed days grew by 2 per cent in the past year, twice the rate for the acute sector as a whole, which along with delayed transfers has "crowded out" inpatient elective work. New care model vanguards are performing significantly better than the country as a whole on emergency admissions.
Primary and acute care systems and multispecialty community provider areas were outperforming the rest of the country before they were selected as vanguards, but have cut the rate of growth significantly since then.
However, from 2017-18 vanguards will "need to take clearer financial accountability for reducing emergency hospitalisation growth in their area".
National funding for each PACS, MCP or urgent care vanguard will be available to STPs to pay for excess emergency admissions growth in their area, so national leaders "can be sure that vanguards are explicitly focused on demand management and delivering better performance than the rest of the country".
"They now need to fulfil their early promise and demonstrate how they 'earn their passage'," the delivery plan says.
Next steps for the forward view – what you need to know
1

2

3

Currently reading

STPs told to slow emergency admissions in 2017-18

4

5

6

7

8

9

10