Councils' involvement in drawing up sustainability and transformation plans has varied "significantly" across the country, Local Government Association chief executive Mark Lloyd has said.
Mr Lloyd, who made his comments at the County Councils Network annual conference this week, has attended meetings between the 44 STP areas and the NHS national leadership, including NHS England.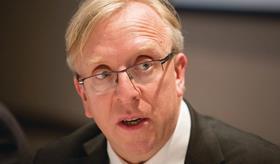 He said the STP project "will only work if local government is at the table" but added: "Has councils' place at the table been delivered successfully? The honest answer is that it varies significantly."
In a separate statement after the conference, Mr Lloyd said: "Council representatives were part of the STP local leadership teams in all bar a handful of cases in their discussions with NHS national bodies."
However, during his speech to the conference Mr Lloyd noted that local politicians were not present at the majority of these meetings.
"In some places the sustainability and transformation planning process is working very well; there are places where local government is leading it, and where politicians are involved.
"In review meetings where local areas were coming in and setting out their plans to the NHS hierarchy, in only two of those meetings were there councillors."
Mr Lloyd said the decision of a handful of councils to publish their plans – against the wishes of NHS national leaders – "caused a little bit of a wobble" but "it was probably not unhelpful".
"The expectation in the world of health is that within the next six weeks, all of the plans should be published; those are the instructions to NHS leaders across the country," said Mr Lloyd.
He urged councillors to ensure their plans were published "in a form that the public will understand and feel they can engage with". Mr Lloyd warned that failing to demonstrate councils' involvement with the plans would guarantee their failure.
"If it's controversial, and if the public don't know that their democratically elected representatives have been part of shaping them, the plans will not go very far at all," said Mr Lloyd.
Nigel Edwards, chief executive of health thinktank the Nuffield Trust, also spoke at the conference, providing his analysis of the STPs.
He said that half of the savings demanded of each area had been made through "business as usual efficiencies" and the rest from "a variety of rather more radical changes".
Of these, Mr Edwards said that the focus on prevention that was common in plans was "the right thing to do but unlikely to pay back in the time available"; that integration was "proving hard to do because of different cultures"; and that strengthening primary care by scaling it up was "like herding cats".
Mr Edwards said there were a number of plans that included "substantial reductions in beds, A&E closures, closing some maternity units and the removal of beds from some community hospitals".
"These are fairly substantial and in some cases unpalatable changes," he said.
Mr Edwards added that there was a clear "optimism bias" in many of the plans, and that some of the geographies for areas did not make sense.
"Because of the way some of these areas have been constructed, it reminds me of the British dividing up the Middle East, just drawing lines on the maps. What can possibly go wrong? Some of these people have never met each other before," he said.