Insider tales and must-read analysis on how integration is reshaping health and care systems, NHS providers, primary care, and commissioning. This week by deputy editor Dave West.
The long term plan is in its final days of gestation - the most important bit when the real the tussling and sharp-elbowing takes place.
Publication had been pencilled in for next week, but that hope has been dashed and we're now probably looking at some time between 12 December and 21 December.
Big decisions are still to be made about what goes in and what comes out, the big symbolic objectives, and where the money goes and when.
In Matt Hancock there is now a health secretary who sees himself as setting a clear direction for the NHS and wants his priorities and agendas to feature. Some of those accord well with NHS England - shifting spend to primary medical care and being fairly relaxed about hospital targets, for example - but others are a less natural fit.
His department also hopes to land its social care green paper before Christmas and probably wants this and the LTP to complement each other - perhaps with the latter giving some cover to the shortcomings of the former. Simon Stevens has so far steered well clear of mingling his NHS agenda with politicians' social care funding dilemmas, and seems keen to keep it that way. In reality, it means the care green paper could slip yet again into 2019.
Meanwhile the rest of government will have a view on how the plan is landed, in particular how it can best fit with - or distract from - its Brexit nightmare.
On which note of course the political tectonics may well move again under the NHS, with the likelihood of Theresa May - the person who commissioned and directed the funding for the long term plan - losing the 11 December Brexit deal vote, then potentially her job. With an ongoing lack of strong or stable government, the NHS will try to steer itself.
In the skill mix
Primary medical (not dental or pharmaceutical) and community health services featured last week in one of government's trailers for the long term plan, with a "big number" of £3.5bn attached. This figure, as with the one issued for mental health, should be taken with a large pinch of salt. I suspect the plan itself will - as featured further down the press releases - commit to increasing the share of NHS spend on GP, community, and mental health services.
The real questions are can this be achieved and how hard will all those involved really try to make it happen?
One lesson here though is that the boundary, many would say fracture, between general practice and the rest of the NHS - particularly wider primary and community health - is one of the main battlegrounds for the long term plan. In large part this is where successful reform will be forged, or not.
The latest general practice workforce figures (rather bravely highlighted by both NHS England and the health secretary, since they show falling GP numbers) mark an important change already taking place between GP doctors and their wider teams.
Skill mix is a big issue here and will be a massive one in primary care and across the service over the next few years.
In hospital and community health services, for each doctor working there are about seven other clinical or clinical support staff. In general practice, there are more doctors than others: about 1.2 doctors for every other person who directly cares for patients - nurses, healthcare assistants, pharmacists, therapists, and so on.
This is quite rapidly changing, though, fuelled by inability to recruit GPs. Total whole time equivalent GPs went down by 460 between September 2015 and September 2018 - despite the ambition to increase them by 5,000 (and despite a 1,120 uptick since June with the introduction of new trainees).
Meanwhile though WTE nurses have increased by 642 since 2015, and other "direct patient care" roles are up by 3,097 - an increase of a third, primarily pharmacists and healthcare assistants.
The non-GP workforce is still about 6,000 shy of their GP colleagues - but that's narrowed from 10,000 only three years ago. Here's a chart: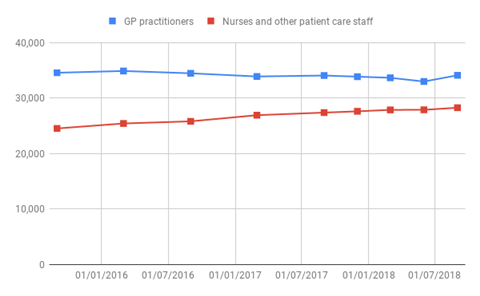 One of the implications of the move to primary care networks and more proactive community care - which will feature heavily in the long term plan - is a change to the link between GPs and the wider "non GP" NHS. Despite the shift in the general practice workforce shown above, huge financial, cultural and technical barriers remain.
Ammended a tiny bit post publication to emphasise the fact that the social care green paper could well be deferred again, into 2019.