There were 7,500 more deaths than usual in care homes and in people's own homes over the two weeks to 10 April — only 1,500 of which have covid-19 recorded as a cause — new figures have revealed.
HSJ analysis shows the difference between the number of deaths in different settings over those two weeks, in which covid-19 hospital mortality was climbing to its peak, and the number of deaths in an average two-week period across 2014-18.
The difference in acute hospitals is more than accounted for by covid-19 attributed deaths — meaning, it appears, fewer people who do not have coronavirus are dying in hospital than would be expected.
But in care homes, there were nearly double the average number of deaths, and in people's own homes there were 70 per cent more. The share of this discrepancy which could be accounted for by the deaths attributed to covid-19 in care homes and people's homes are 24 per cent and 14 per cent respectively.
The explanation is likely to be a mixture of some deaths caused by covid-19 but not recorded as such, and some deaths taking place as a side-effect of how people and services are responding to the outbreak.
There has been huge concern about care homes struggling with outbreaks, often with limited resources, and with the NHS seeking to keep people away from hospital.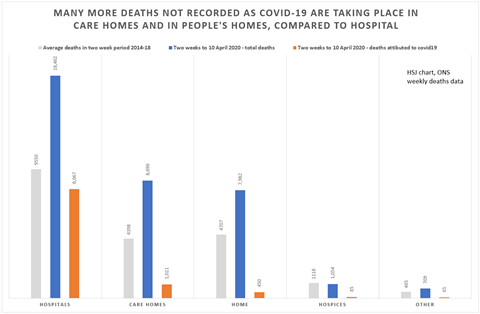 Although death numbers do fluctuate within each year and within years, such large numbers are extremely unusual. The Office for National Statistics, which today published new data on deaths in the week to 10 April, said it was the highest total in a single week since the beginning of 2000.
It has been very hard to get covid-19 tests in care homes; and there has been concern about people not seeking healthcare when they need it, while it is more difficult to get an ambulance.
Across all settings between 14 March and 10 April, the ONS has reported 15,161 more deaths than the average of the past five years for this time of year. There were 10,330 deaths with covid-19 recorded as a cause, representing 68 per cent.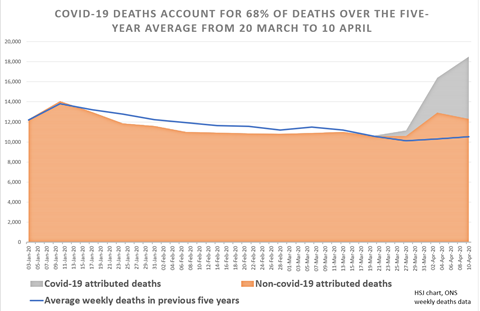 The figures available indicate covid-19 deaths in hospital in the UK peaked on 10 April, but the pattern for deaths outside hospital is not known, and there remains huge concern about the impact in care homes.
While the past month has seen a much higher death rate than normal, the overall mortality and health impact of coronavirus will also need to be judged over a longer period, taking account of death rates both in coming months, and in the period before covid-19 hit.