NHS England to push for "hub" model of primary care with each covering 30,000-50,000 patients
Half of the country to be covered by these networks next year, says national director
NHS England to "benchmark" GPs and CCGs with high hospital referral rates
£700m investment to be released by agreeing on "successor" to quality outcomes framework
All GP practices will be grouped into regional hubs covering populations of up to 50,000 over the next two years as part of plans to revolutionise primary care at scale, under plans released by NHS England today.
In the Five Year Forward View delivery plan, published on 31 March, NHS England said it wanted GP practices to work in "networks or hubs" covering populations of 30,000-50,000.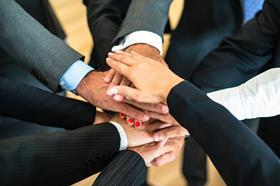 Arvind Madan, director for primary care at NHS England, told HSJ this would be achieved over the next two years, with half the country covered in the first year.
Dr Madan said the "local care networks" would be established "without any difficult application processes".
He suggested 30,000 would be the minimum population size for the hubs. "We're not going to be prescriptive but actually there is something around saying you can't be much below 30,000", he said, "and we recognise that's going to be more of a challenge for rural areas but actually we do think it's doable".
The delivery plan states: "Most GP surgeries will increasingly work together in primary care networks or hubs." It added that having a population of 30,000-50,000 would allow GP practices to share multidisciplinary teams, expand diagnostic facilities and pool responsibility for urgent care and extended access.
"Nationally we will also use funding incentives – including for extra staff and premises investments – to support this process," the document said.
However, it added that the model "does not necessarily depend on physical co-location of services" and will not require practices to merge or close.
Plans to move to population sizes of 30,000-50,000 echo statements made by NHS England chief executive Simon Stevens, when he said "thousands" of practices would begin to adopt the Primary Care Home model, which is based on the same population sizes.
Sustainability and transformation partnerships will be expected to "accelerate" the implementation of the hub model. Meanwhile accountable care systems - the most integrated areas - will be expected to vertically integrate health provision, including GP hubs.
The delivery plan also said NHS England will identify GP practices with high hospital referral rates, judge whether their referrals are clinically appropriate, and then "deploy clinical peer review".
The national body will look to develop a "successor" to the quality and outcomes framework to free up £700m to invest in primary care.
To save money in elective care investment, NHS England said GPs and clinical commissioning groups will need to tackle variation in referrals.
Next steps for the forward view – what you need to know
1

2

3

4

5

6

7

Currently reading

Two year ambition to roll out new primary care hubs

8

9

10