CCG plans major procurement after providers fail to agree on how to integrate care
Community provider moves towards setting up MCP with GP federations
CCG has £17m shortfall in the year to date
Community trust says acute provider wanted to "take operational control of all services"
Commissioners in Oxfordshire are planning to go to procurement for community, GP and urgent care services after the county's two main providers failed to agree a way of integrating care.
In response to the contract announcement, two local GP federations are developing a joint bid with the main community services provider.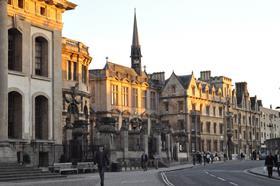 In a board paper for an extraordinary governing body meeting later this month, published today, Oxfordshire Clinical Commissioning Group reveals it has decided to embark on a "commissioning process" for "integrated adult services".
The CCG has not yet decided which services will fall within the scope of the contract, but it is likely to include primary care, community services, urgent care and some acute services such as emergency care.
Oxfordshire CCG finance director Gareth Kenworthy told HSJ the contract would seek to transfer financial risk for activity growth to a provider. The CCG has a shortfall of £17m so far this year, which was not forecast and is mostly related to rising demand.
The board paper says: "We would expect bidders to demonstrate how they will deliver these services in partnership with those GP practices and GP federations delivering primary care services."
The CCG has not specified whether a full open competitive tender will be used, or if a new contract can be signed via a more streamlined process. Recent guidance on new care models says new integrated contracts should be advertised publicly, but stops short of saying a full tender will always be necessary.
Oxfordshire first attempted to design a large integrated contract for frail elderly care in 2013, but the project failed amid serious concerns from providers. More recently, the CCG has succeeded in awarding an outcomes based contract for adult mental health care to a consortium led by Oxford Health Foundation Trust.
For this latest proposed contract, Oxford Health, a community trust, is developing a joint bid with two local GP federations.
Mr Kenworthy said commissioners would be "delighted" to receive a collaborative bid involving the two local foundation trusts – Oxford Health and Oxford University Hospitals FT.
He said: "We genuinely think that the best model for integration is if the providers decide to collaborate and work together to deliver it."
The decision to go to procurement was born out of frustration that the two providers had not agreed a way of integrating and managing pathways spanning acute, community and primary care on their own.
"We've tried that option, it hasn't come off for us… there's no doubt the providers see the benefit of working in that way," Mr Kenworthy said, but regulatory regimes created barriers to working together and there were "quite possibly" cultural issues that prevented the trusts collaborating more.
Oxfordshire has seen rising demand for care this year. Although both trusts are on block contracts, the CCG has pumped an additional £8m into Oxford University Hospitals to pay for the extra activity since the beginning of 2016-17. This has combined with other unforeseen cost pressures to leave the CCG with a shortfall of £17m.This is despite the CCG receiving an increase to its allocation of 7.5 per cent in 2016-17 – significantly above average.
The CCG has a history of financial problems, and was one of the first to go into an unplanned deficit when it was established in 2013. However it went back into the black last year.
The new integrated contract plan is one of a set of measures aimed to cut demand for care locally and restore the CCG to balance.
A spokesman for Oxford Health said the trust was "disappointed" that an agreement had not been reached with Oxford University Hospitals this year.
However, the spokesman said: "OUH have recently made it clear that the only approach that would be acceptable to them would be if they were to take operational control of all services, leaving no significant role for any other partners.
"Our experience elsewhere is that models of integration work much better for patients when they are conducted in partnership."
He added that Oxford Health's joint bid with GPs for the new contract represented "a first step towards creating a multispecialty community provider".
Oxford University Hospitals director of operational services Paul Brennan said: "We are continuing discussions across the Oxfordshire health economy as to the best way to secure the integration of key services to support complex adult and frail elderly care.
"Key to this is integrating these services with primary care and supporting primary care colleagues to manage patients away from bed-based care. In the event that it is determined that the services should be tendered, the trust is highly likely to put in a proposal."