Chris Hopson calls for government and arm's length bodies to "get off the pot" and commit to improving community services
NHS Providers chief executive's comments come as report reveals one in three community providers had to cut staff last year
Government's long term plan must not repeat failures, Mr Hopson says
The Five Year Forward View has failed NHS community services and a third of community providers cut staff last year, NHS Providers chief executive has said.
Speaking exclusively to HSJ, Chris Hopson said despite being a "compelling and exciting vision" the forward view "never had a proper implementation plan" and has "failed" in its ambition to move more care closer to home.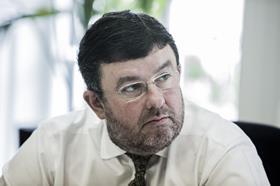 His comments come as NHS Providers published its report on the state of community services. The report, published today, said a third of community services providers had to make staff cuts in 2017, while 62 per cent said they were worried about their ability to staff services in a year's time.
Mr Hopson warned the forthcoming 10 year plan for the NHS must not repeat the failures of past plans to deliver on promises to improve community services.
He said: "It's time to get off the pot. This is the perfect opportunity to really, once and for all, in the plan that follows the prime minister's funding commitment, we can really follow through on that commitment [to community services] or not… Are we really going to use this opportunity to make it happen or are we going to waste it again?"
The report, based on a survey of 71 NHS trusts, said more than two-fifths of community providers had to cut costs last year due to financial pressures and demand on their services, while 7 per cent claimed to have compromised the quality of care due to these pressures.
Mr Hopson said: "It has been a bit shocking about the way the Department of Health and Social Care, NHS England and NHS Improvement have simply not had a sufficiently adequate focus and adequate policy focus on community services."
He criticised national leaders' decision to drop plans for five year forward view for community services and said it demonstrated "the vast gulf between the professed commitment to expand community services in documents like the Five Year Forward View and the complete failure to follow through".
Reflecting on the national focus given to mental health services in recent years, Mr Hopson said: "Five years ago everybody was saying parity of esteem, and it was absolutely parroted by all a sundry… the really important thing we've done [since then] with mental health is move beyond the simplistic top level phrase that everybody can sign up to, to taking some concrete action.
"The fact we have created a clear mental health investment standard, the fact that we've said we're going to hold CCGs to account for meeting that standard and that we're now spending a lot of time measuring whether that standard is met, is a very good example of where you can back up a commitment to prioritise something and ensure it is followed through with the money."
Mr Hopson also said it was time for the NHS to decide whether to prioritise competition or allow providers to focus on delivering quality services. The report said trusts are having to submit an average of five bids a year to run community services.
Hopson: NHS must 'get off the pot' on improving community services
1

Currently reading

Hopson: NHS must 'get off the pot' on improving community services

2