NHS England review of Cambridgeshire and Peterborough contract failure is published
Report calls for further reviews of CCG's advisers
VAT liabilities contributed to a £14m gap
Contract should never have gone live in April 2015, review says
NHS England should review all current and planned major service contracts "as a matter of urgency", its review of the failed Cambridgeshire and Peterborough contract for older people's care has concluded.
The review, which the national body commissioned following the collapse of the deal in December, was published on Friday afternoon.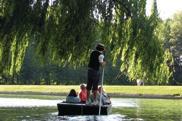 Review author David Stout has also urged NHS England to review the role, function and effectiveness of Cambridgeshire and Peterborough Clinical Commissioning Group's advisers on the contract. The review names three organisations: legal firm Wragge & Co; financial advisers Deloitte; and the Strategic Projects Team. The latter is part of Greater East Midlands Commissioning Support Unit, which is hosted by NHS England, and ran the procurement process.
The follow-up reviews should "determine any specific issues with their contributions and… identify lessons to be learned for future projects of this sort".
The review examines a £725m five year contract, which was awarded to UnitingCare Partnership in November 2014, and collapsed after just eight months of operation in December.
UnitingCare was a limited liability partnership jointly owned by two local trusts: Cambridgeshire and Peterborough Foundation Trust, and Cambridge University Hospitals FT.
Mr Stout has recommended that the Department of Health's "gateway review process", which praised the procurement process that led to the failed contract, and the CCG's leadership should also be investigated.
The contract should never have gone live in April 2015, Mr Stout said. Although it had already been delayed twice, it should not have begun operating until a set of fundamental contractual factors had been resolved.
These included getting final agreement on a contract value, and an additional VAT cost associated with UnitingCare being constituted as an LLP.
Mr Stout said there was a £14m financial gap between the annual cost of providing the service and the money available. "Neither the CCG nor UnitingCare had the financial flexibility to cope with deficits of this order even if this could be justified by savings in the future," the review says.
He calculated that the episode cost the CCG £6m, with additional costs borne by providers. "However, there were some benefits arising from the contract which include the production of an 'outcomes framework' and 'service redesign models' which will be helpful to the CCG in the future," Mr Stout concluded.
The review also recommends NHS England consider "which is the most appropriate process to achieve an integrated system-wide solution consistent with EU [procurement] law".
It adds: "There are advantages to formal procurement… however this requires capacity and capability to carry out the procurement, robust costing and other information to inform the contract and financial flexibility of bidder organisations to manage risk."