Essential insight into NHS matters in the North West of England, with a particular focus on the devolution project in Greater Manchester. Contact me in confidence here.
In this week's North by North West:
A closer look at the stats reported by the Fylde Coast vanguard
Acrimony at a Bolton GP Practice
The next chapter for HMP Liverpool leaves questions over funding
Data digging
Fylde Coast is one of the supposed success stories from the national vanguard programme, but some curious patterns emerge if you take a closer look at its overall hospital activity.
The vanguard area, which covers Blackpool and Fylde and Wyre clinical commissioning groups, has reported some impressive reductions within the subset of patients being targeted by their extensive care service and enhanced primary care model.
But what impact is this having on activity levels for the whole population? I thought this was worth having a look at after Blackpool Teaching Hospitals Foundation Trust, the only acute provider in the vanguard, reported some awful accident and emergency stats over the winter.
The first port of call was the monthly activity return data which is officially submitted by trusts and published by NHS England.
Surprisingly, this showed non-elective admissions for the Fylde population rising twice as quickly as the rest of England. They increased to 9 per cent in the year to September 2017 against the 2014-15 baseline, compared to 5 per cent nationally.
However, the CCGs pointed out that a different set of figures, known as secondary uses service data, show a different trend.
SUS data goes through a greater level of reconciliation and validation and is due to largely replace MAR, so this sounds like the right place to look.
It isn't yet published, but it was possible to crunch the numbers after we got hold of a dashboard document used by NHS England to judge the vanguards (and make decisions on funding).
Unlike the MAR figures, the unpublished SUS data produced the result you would expect from a successful vanguard, with Fylde's emergency admissions rising by only 0.6 per cent, compared to 5 per cent across England.
But where things get interesting is comparing the two datasets over time. The MAR and SUS figures are very similar (raw numbers and rate of increase) for Fylde until the middle of 2015-16, the first year of the vanguard project, when they begin to diverge dramatically.
There is no such divergence in the national figures, which remain on a broadly similar trend. The charts below measure non-elective/emergency admissions in each quarter compared to the 2014-15 baseline (*see note below).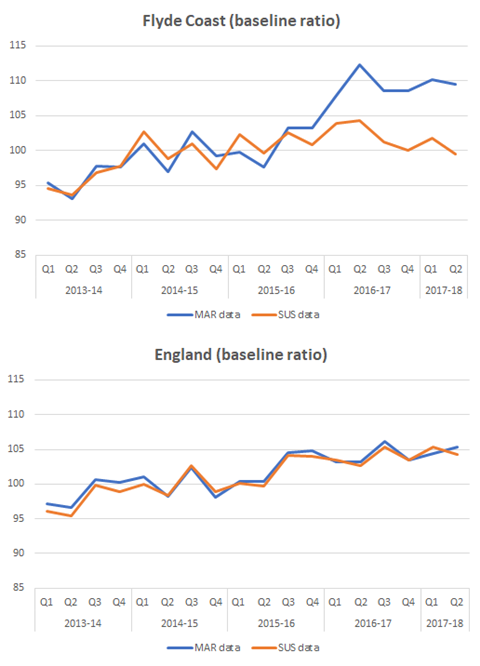 My hunch is that coding will be coming into play here, given that SUS is used to determine payments to providers under the national tariff system.
As in many areas, there will have been an entirely legitimate focus on ensuring hospital episodes are appropriately coded. The Fylde Coast CCGs will likely have a more accurate view of real admission levels, and no longer be paying for activity they shouldn't.
But this obviously causes problems when comparing different time periods, because it's not comparing like with like. The MAR data could even be a better indicator, because it's no longer used operationally and the definition of what counts as an admission is less likely to have changed.
Even ignoring these issues, bed days are probably a better indicator of acute activity anyway, as they measure the full impact of a hospital admission on the acute trust.
One expert I spoke to reckoned they're also less prone to being skewed by coding changes.
According to the figures in the NHS England dashboard (collected under SUS), bed days have not reduced on the Fylde, whereas across England they've dropped by 1 per cent.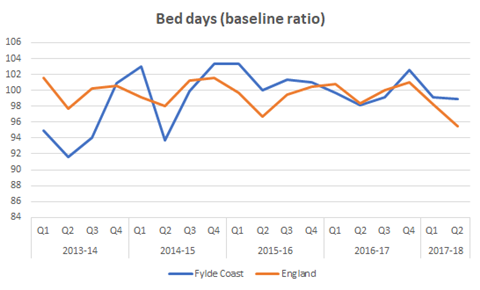 None of this is to say that the vanguard has been unsuccessful. We don't know the counter factual scenario, in which activity on the Fylde could have risen at a much faster rate without the interventions that were put in place.
But it does tell us that impressive results within a subset of high risk patients won't necessarily lead to overall activity reductions.
To be fair to the local leaders, I haven't heard them make those claims, but I have heard the Fylde Coast example being loosely referenced in this way by others, with a business case for the Stockport vanguard being the most obvious example.
The CCGs did not respond when asked for thoughts on the bed day stats, and the divergence between the MAR and SUS figures.
(*MAR data measures "non-elective admissions", whereas the SUS defines "emergency admissions". The charts compare activity in each quarter against the average activity level in 2014-15.)
Acrimonious partnership
A tribunal judgement published this month revealed an almighty mess at one Bolton GP practice in 2016, when three employees were sacked after making protected whistleblowing disclosures about one of the partners.
The disclosures to the General Medical Council alleged that Shaista Hanif, of Shanti Medical Centre, made inappropriate entries in patient records, failed to record consultations and refused to visit elderly patients.
The GMC found the allegations had arisen against the backdrop of an "acrimonious partnership" between Dr Hanif and Anant Prasad, another partner, and did not meet its "realistic prospect" test or justify a formal warning. So the case was closed with no action.
But Dr Hanif (against the wishes of Dr Prasad) then sacked two receptionists and an office manager, saying they had made "purely malicious and vexatious" allegations and this represented "gross misconduct and serious insubordination".
The tribunal found they were unfairly dismissed and the practice should pay them a total of £150,000. According to its website, both doctors are still at the practice.
Personal relationship
The chief executive of The Clatterbridge Cancer FT has resigned after the discovery of a "close personal relationship" with his deputy. Andrew Cannell had been at the specialist trust since 2009. Both he and deputy chief executive Yvonne Bottomley had been suspended pending an investigation.
Core funding concern
Given the serious problems that have been evident at HM Prison Liverpool over several years, one would hope for a substantial uplift in funding for the new provider set to take over its healthcare contract next month.
Unconvincingly, the core contract (awarded to private provider Spectrum Community health) has been slightly reduced to £6.5m, albeit with additional money promised for "service improvements".
NHS England has not detailed what the extra funding will involve in terms of quantity and conditions, and it's also not clear whether it will be recurrent to allow extra substantive staff to be recruited.