The admissions of covid positive patients now appear to be falling in every region of England, but hospital deaths have reached a record high.
The downward trend in admissions is now well established in London, the south east, south west and east. On 23 January the running weekly total of admissions in those regions was down 26, 25, 15 and 12 per cent respectively on peaks set between 9 and 18 January.
The Midlands, the north east and Yorkshire, and the north west have all seen the running weekly total fall for at least two consecutive days up to 23 January, the latest data available. Their totals are now down 7, 5 and 4 per cent respectively on peaks set between 15 and 21 January.
The fall in admissions in the north west has pushed the number of covid positive patients in the region into week-on-week decline based on occupancy data for 25 January. Only the north east and Midlands are now seeing numbers rise on a weekly basis, and then by only 3 and 1 per cent respectively.
The highest number of deaths
The latest data on the deaths of covid positive hospital patients showed the weekly total reached 5,525 on 18 April. This is the first time the peak of 5,494 deaths recorded in the week ending 11 April has been surpassed.
The weekly total reached 5,544 on 19 January, the latest data available, but will inevitably increase.
Advances in treatment have meant significantly fewer covid positive patients are dying. There were 74,154 admissions of covid patients in the 21 days to 19 January, but only 46,492 in the same period up to 11 April.
The other significant change on the first peak, is the regional mix of deaths. The greatest changes came in the south east. It accounted for 18 per cent of deaths in the seven days up to 19 January, but only 11 per cent during the week running to 11 April.
In contrast, and despite seeing the highest number of covid patients in the third wave, London saw its proportion of deaths fall from 26 to 21 per cent – a reflection of how the early stages of the pandemic were concentrated in the capital.
Of England's 42 health 'economies' the following five currently have the highest weekly death tolls: east London, Sussex, north west London, Cheshire and Merseyside, and Kent and Medway.
Fatalities are increasing rapid in Sussex and Cheshire and Merseyside, as they are in the Black Country and West Birmingham, and west Yorkshire and Harrogate.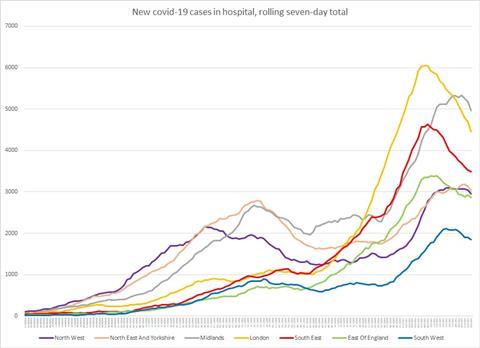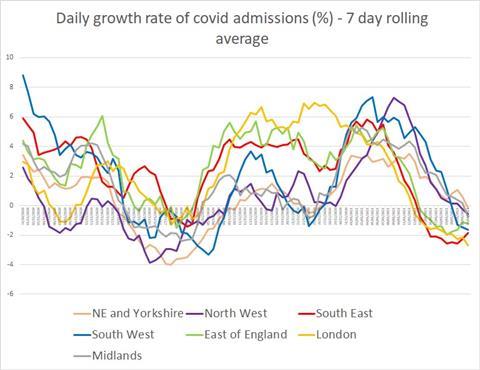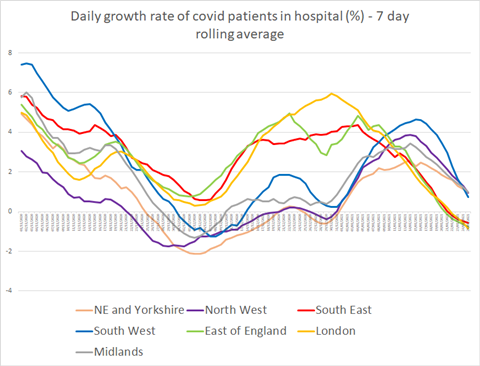 This article is an update to an earlier story
Source
NHS England statistics