Growth in the number of hospitalised coronavirus patients is "definitely getting slower" the government's deputy chief scientific adviser has said.
Angela McLean said at the daily coronavirus press conference on 8 April that the virus has not been "accelerating out of control" in recent days, as had been feared.
Numbers of covid-19 patients in critical care have increased by 52 per cent in the UK over the last seven days, but only by 4 per cent in the last 24 hours, according to government data.
The number of people with confirmed covid-19 in hospital beds in Great Britain rose by 5 per cent over the last 24 hours — but by 16 per cent in the East of England.
Data released this evening states there were 4,689 covid-19 patients in hospital in London on 7 April. The capital had about 16,000 general and acute beds open at the end of last year, so the figure would normally account for about a quarter of capacity. Capacity has been expanded, more patients discharged, and elective work cancelled, however.
Across England there were 16,563 hospitalised, against 93,000 total general and acute capacity in the third quarter of 2019-20.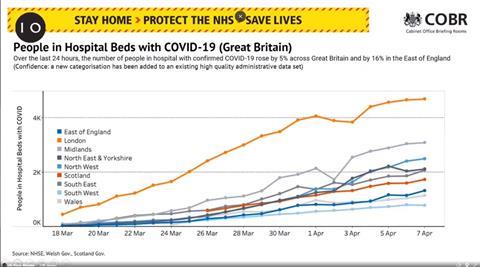 Professor McLean said social distancing measures – reflected in indicators such as footfall at major railway stations dropping by 94 per cent through March — were working in delaying the spread of the virus.
She said: "That has worked in the sense that this count of new cases in the UK, day by day over the last few weeks, is not accelerating out of control.
"Yesterday there were 5,492 new cases and the spread of this virus is not accelerating, and that is good news.
"The rate at which [hospital admissions are] rising is definitely getting slower and looks like we're beginning to get towards a flat curve, which is what we've all wanted."
On critical care, Professor McLean said: "We can see encouraging news that perhaps at least in some parts of the country, this really has started to flatten."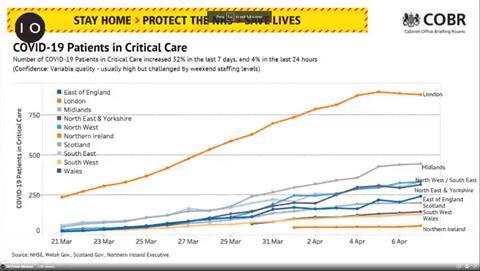 Professor McLean's comments came as England's covid-19 death toll increased by 828 to 6,483 after the country's deadliest day yet in the pandemic.
Across the UK 5,492 new coronavirus cases were confirmed today, with 14,682 tests carried out.
Source
Daily press conference