Twenty-three hospital trusts had more than a third of their core bedbase occupied by covid-19 patients on Tuesday, and occupancy is still rising at all but one.
Three trusts (North Middlesex in north London, as well as Medway and Dartford and Gravesham in Kent) had more than half of general and acute beds occupied by patients who had the virus, and others were not far behind.
Several trusts saw their covid occupancy share up by more than 10 percentage points in a week — a rate of growth which would soon see them entirely filled by covid patients, a situation with radical consequences for emergency hospital care in those areas.
London as a whole had a third of these beds occupied by patients with covid-19.
HSJ has analysed data published for the first time by NHS England last night. The data concerns the status of adult general and acute beds, which make up the large majority of the acute bedbase. They do not include intensive care, which is also now under huge pressure in London, the south east and the east of England. Most hospitals in these areas are stretching IC capacity above normal levels.
Such high covid occupancy in both intensive care and the core bedbase is putting severe strain on hospitals' ability to treat other patients. Most or all of the trusts under the greatest pressure have now cancelled routine planned surgery, and many are struggling with crowding, delays getting patients into and out of emergency departments due to the space available, and a lack of staff.
If they can find additional staff they may be able to open extra general and acute beds, but ability to do this is running out.
The 23 trusts with occupancy over a third represents 19 per cent of the 123 total trusts included in the analysis (all adult general acute trusts, with one excluded due to missing data).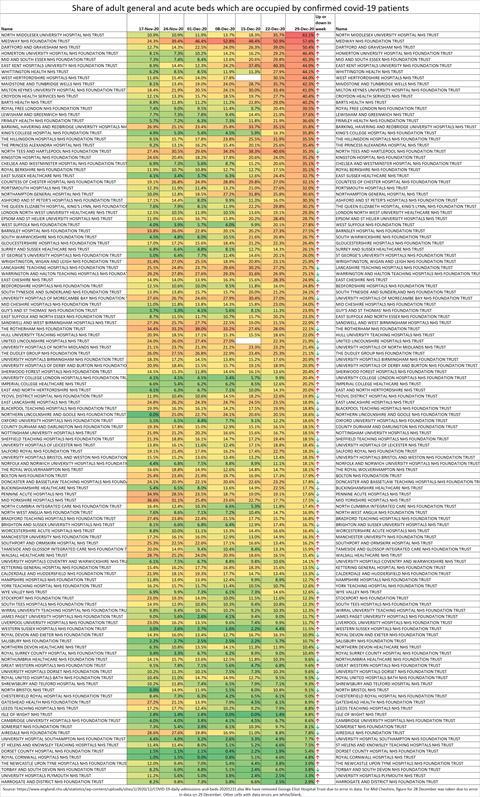 At a regional level, London had hit a third of its adult general and acute beds occupied by patients with covid-19, with the south east and east on 27 per cent: