Regional breakdown of vaccine rollout shows the East and London are lagging
The North and east Yorkshire is ahead with almost half of its 80-plus population vaccinated
A much lower percentage of 80-pluses have received their second dose, as planned
The East and London — two regions under huge pressure from covid's third wave — are lagging behind in vaccinating those 80 and older for covid-19, according to new figures published by NHS England.
The first regional breakdown of the number of people who have so far received the covid-19 vaccination, published today, show 31 per cent of those aged 80 or older in London have been given their first dose of vaccine.
The capital, along with East of England on 29 per cent, is significantly behind the leading region, North East and Yorkshire, where 46 per cent of that group have received their first dose.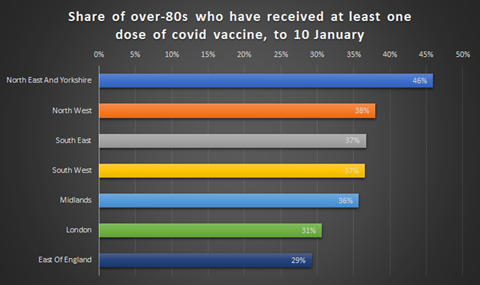 The mixture of reasons for performance are not known — it may be due to supply, delivery issues, the nature of the area, or the size of the over-80s population. The East and London, along with the South East, have been the hardest hit by covid's third wave in recent weeks.
NHS England has maintained that the vaccine is being used nearly as quickly as it is available each week, but there are thought to be a small number of sites identified for using their supply more slowly.
The East of England has vaccinated the lowest proportion of over 80s, with 29 per cent receiving their first dose. The South East has given 36.7 per cent of its over 80s their first dose, followed by 36.5 in the South West.
The Midlands has vaccinated 36 per cent of its 80+s.
The proportion of 80+s who have had their second dose is more consistent, with 9 per cent in London compared to 11 per cent in North and East Yorkshire. The government said at the end of December that second doses should be delayed until 12 weeks after the first, so does not want any to be given at present — a controversial message, reinforced this week to NHS leaders.
The data covers up to 10 January, from when vaccination began on 8 December. It may be an underestimate due to a lag in reporting.
The figures come as the NHS ramps up its vaccination efforts — numbers are expected to increase to at least two million a week in February.
Doses given to 10 January, and shares of 80s and over:
Under 80
80+
Under 80
80+
80+ population
Share of 80+ received first dose
Share of 80+ received second dose
England
960,699.00
1,036,605.00
81,228.00
292,875.00
2,836,964.00
37%
10%
East Of England
81,604.00
104,687.00
6,891.00
42,841.00
358,052.00
29%
12%
London
107,588.00
92,398.00
9,198.00
28,340.00
301,733.00
31%
9%
Midlands
194,628.00
193,019.00
14,803.00
44,879.00
540,399.00
36%
8%
North East And Yorkshire
166,554.00
204,140.00
12,226.00
50,125.00
444,415.00
46%
11%
North West
135,178.00
131,407.00
14,146.00
37,714.00
346,076.00
38%
11%
South East
165,564.00
183,299.00
14,147.00
48,247.00
499,255.00
37%
10%
South West
108,212.00
126,896.00
9,655.00
40,569.00
347,034.00
37%
12%
Source
NHS England figures