London had given a first dose to 65 per cent of its 80+ population, which compares with 83.7 per cent in the North East and Yorkshire
Vaccination of people under 80 has increased by more than 88 per cent in one week
Gloucestershire STP has already given a first dose to more than 90 per cent of its 80+ cohort
London continues to lag behind in vaccinating its 80-and-over population for covid-19, while the east of England, which was previously behind, has substantially improved its coverage.
The latest covid-19 vaccine data published by NHS England on Thursday shows that the East of England has now given 79.9 per cent of its 80+ population their first dose, up 26.9 percentage points from the previous week.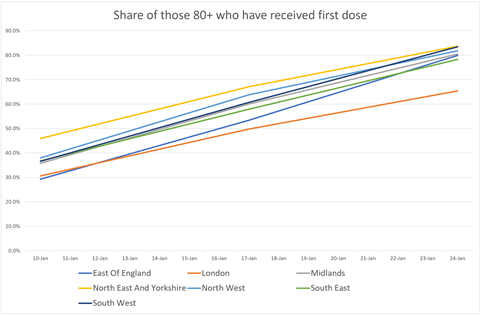 The data relates to vaccines carried out from 8 December, when the vaccine programme started, to 24 January.
London is still trailing in the vaccine effort, with just 65.4 per cent of its 80+ population receiving their first dose so far, compared to 50 per cent the previous week.
Of the seven NHS regions, North East and Yorkshire has the highest coverage of the 80+ group, with 83.7 per cent having had at least one dose.
HSJ has reported that supplies of vaccine allocations are expected to be cut to the North West, and to GPs in the North East and Yorkshire, this week and in coming weeks. This is partly due to them having already vaccinated more of their top priority cohorts, with others needing to make more progress.
NHSE also published the vaccination data by sustainability and transformation partnership as of 24 January, which continue to show substantial regional variation, though some have increased a lot since the previous week. Gloucestershire has vaccinated 91 per cent of its 80+ population, while South East London is the lowest on 60.4 per cent.
Those making particularly large increases in their share of over 80s covered were Nottingham and Notts, Suffolk and North East Essex, Cambridgeshire and Peterborough, and Norfolk and Waveney. This leaves four of the five London STPs with the lowest four rates of coverage.
The reasons for the problem in London are unclear. Some have suggested they included: the capital's severe covid pressure in recent weeks; its higher black, Asian and minority ethnic population; lesser staffed and sometimes weak primary care providers; and potentially too much focus on setting up "mass" vaccination centres rather than primary care.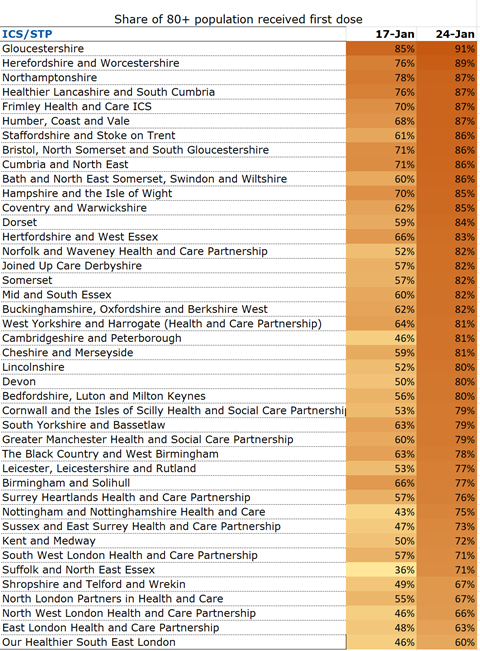 Vaccination of those under the age of 80 – most likely those over the age of 70, the extremely clinically vulnerable and health and care staff – has increased substantially on the past week, with the number having had a first dose up by 88.6 per cent on the previous week.
The NHS is working towards a deadline of 15 February to have everyone in the top four priority groups offered a vaccination. NHS CEO Sir Simon Stevens told NHSE' board meeting today that it was currently on track to meet this deadline.
This comes after the 24 January deadline to have all older care home residents and staff vaccinated was missed, and subsequently moved to the end of the month.
Source
NHS England figures