First regional increase in covid admissions since mid-January
Admissions in East of England remain well down on peak levels
A region has had a small but sustained rise in covid hospital admissions, for the first time since the peak of the winter wave, HSJ analysis shows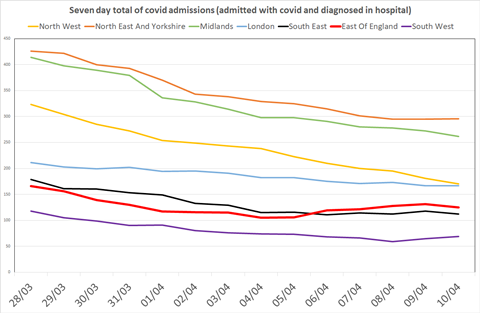 The East of England had six consecutive days of increases in covid admissions between 5 and 9 April 2021. This is the first sustained increase any English region has experienced since mid-January, when admissions peaked.
Most of the region's covid admissions since 5 April are in Essex, Ipswich and Hertfordshire. They include some which appear to have been caught in hospital (nosocomial), but well over half appear to have been caught in the community, according to data seen by HSJ.

On 29 March, national covid lockdown measures were eased to allow a group of up to six people, or two households, to meet outside, including in private gardens. There is no evidence yet to suggest this contributed to the recent rise seen in the East.
East of England's rolling seven-day total of admissions grew each day between 5 and 9 April. On 9 April, the figure was 12 per cent up on a week earlier. It dropped a little on 10 April, and figures since then are not available.
The average number of people admitted per day in the region has remained very low compared to recent months, at less than 20. The East of England was one of the hardest hit regions early in covid's wave three, in December/January.
The other six English NHS regions have continued to experience a sustained decline in covid admissions, except for the North East and Yorkshire region where, in the three days to 10 April, the seven-day total of covid admissions was static at 295/296.
Overall across England, the rolling seven-day average for covid admissions had dropped by 2.3 per cent on 10 April, compared to a week earlier. On this date, the seven-day covid admissions total stood at 1,201 — a drop of almost 18,000 since the start of the year.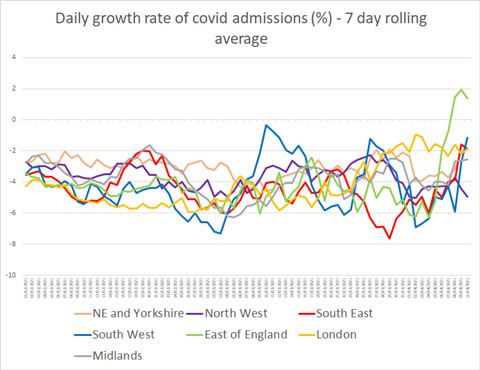 Source
HSJ analysis of NHSE data