Midlands continues to see steep rises in ICU patients
Rises in demand in London but rate of increase slowing
Three out of four NHS regions have nearly double last year's critical care patients, or more
The number of patients in critical care in the Midlands has grown by a fifth in a week, and is now 70 per cent more than in winter last year, HSJ analysis reveals.
It also shows that two out of seven NHS regions now have at least double the number of critical care patients they did last, and a third is very close to double.
Hospitals across the Midlands had an average of 796 adult critical care patients in the seven days to 20 January – both those with and without covid-19 — which is a climb of 22 per cent from the previous Wednesday.
The growth rate the week before was just 5 per cent. The acceleration will be due in part to transfers into the region from the south and east, but local covid hospital demand is also growing in parts of the Midlands, including Birmingham and the Black Country, and Northamptonshire.
Critical care occupancy is also still climbing quickly in the South East, where in the past week critical care units had an average of 782 patients, which is an 18 per cent rise from a week ago. The previous week the growth rate was 12 per cent.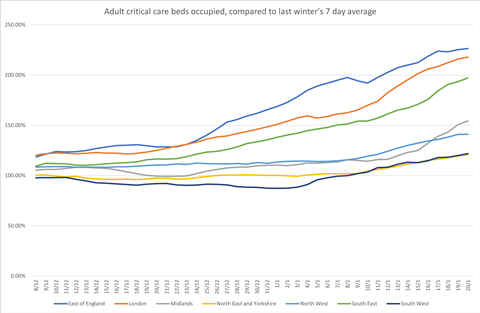 All regions in England have continued to see increases in critical care occupancy over the past week, but rates of increases have fallen over the past week in the East, London, North East and Yorkshire, and the South West.
In London on 20 January, there was a seven-day average of 1,518 critical care patients, an increase of 15 per cent on the previous Wednesday. But a week ago, critical care occupancy in the capital had increased by 24 per cent week-on-week.
Nationally, there was a seven day average of 5,191 critical care patients in the week to 20 January, which is a 70 per cent rise on the 3,048 critical patients on the same date last year. The biggest year-on-year critical occupancy increases are the in East of England, London, and the South East – where they are more than double what they were in 2020.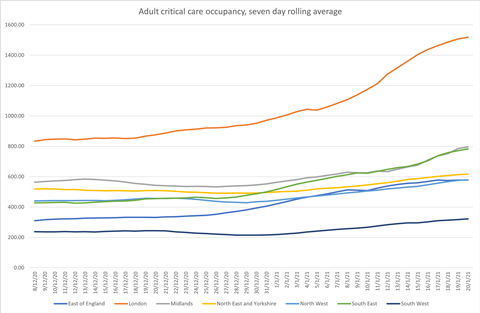 There were 303 more critical care patients in England on 20 December than last Wednesday. In the South East, there was a week-on-week increase of 82 patients, and rises of 75 in London and the Midlands.
Source
HSJ analysis of NHS data