Weekly deaths in England and Wales increased by 6,000 but covid-19 is listed as cause in fewer than 3,500
Excess suggests either underestimate of deaths from pandemic or increasing mortality among non-coronavirus patients
Overwhelming majority of covid-19 deaths occurred in hospital, but growing number are in care homes
Six thousand more deaths were registered in the week ending 3 April than usual, but only 3,475 of these mentioned covid-19, according to new Office for National Statistics data.
In total, there were 16,387 deaths registered in England and Wales in the week up to 3 April. The average number of deaths in the corresponding week for the previous five years is 10,305, meaning there is a gap of 6,082.
The 3,475 deaths which have covid-19 mentioned on their registration certificate only account for 57 per cent of the gap.
The reasons for the additional deaths on top of covid-19 registered deaths is not known.
However, potential factors include that some are caused by the virus but it is not being recorded in the certificate; that people are not seeking healthcare when they need it; or that the overwhelming shift of NHS focus and resources to the pandemic has weakened other services.
There was an unusual 37 per cent (572 deaths) week-on-week increase in the number of deaths where the underlying cause was respiratory disease, but not linked to covid-19 on the certificate, which may point to the reasons for part of the gap.
Health service leaders are taking action to address concern there may be "unintended consequences" of focussing so heavily on the pandemic. There have already been reports children may have died from non-coronavirus illnesses because they were not taken to hospital quickly enough, as HSJ exclusively revealed on 3 April.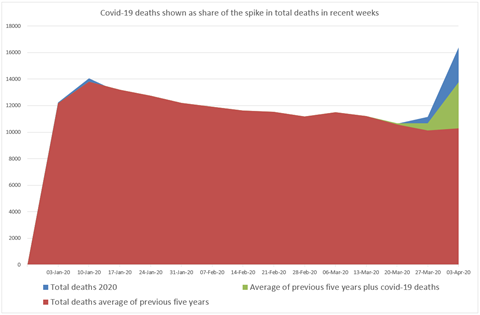 The ONS figures are published with an 11-day time lag, reflecting the time taken from a death occurring to the official registration of a death certificate by a doctor. This data includes possible covid-19 deaths where a doctor has diagnosed the infection based on symptoms but without a test for the presence of the virus.
Death registrations that include covid-19 as a cause or contributory factor made up a fifth of the total deaths recorded in the week up to 3 April. The week before they made up 5 per cent of the deaths — 539 out of 11,141.
In London, the ONS reported, "nearly half (46.6 per cent) of the deaths… involved covid-19". A fifth of the total in the West Midlands were covid-19 deaths, the other current hot spot for the disease in England.
Most deaths occurred in hospitals, with 136 covid deaths taking place in private homes, 33 in hospices, and 217 in care homes.