Trust declares "CRITCON level four", internal NHS dashboard reveals
CRITCON level four is the highest possible alert level and means the trust's resources are "overwhelmed"
UPDATED: Trust later claims it was an administration mistake
A hospital in the South East today declared a level of critical care alert meaning that it may be forced into 'refusal or withdrawal of critical care due to resource limitation' because it has been 'overwhelmed' — but later claimed it was an "administrative error".
Data from an internal NHS dashboard for critical care, seen by HSJ, showed today Darent Valley Hospital, near Dartford in Kent, declared it was at "CRITCON level four".
CRITCON level four declarations are extremely rare. In guidance they are known as "Triage - emergency" and defined as: "Resources overwhelmed. Possibility of triage by resource (non-clinical refusal or withdrawal of critical care due to resource limitation)."
The definition continues: "This must only be implemented on national directive from [NHS England] and in accordance with national guidance."
Dartford and Gravesham Trust, which runs the hospital, replied to HSJ more than five hours after it was contacted, and after publication of the story, to say: "This was a purely administrative error which was quickly rectified." The level has not however been changed so far on the live dashboard, HSJ has confirmed.
NHSE said it was for the trust to comment.
Kent has been the centre of the pandemic in the UK since late autumn and all its acute hospital trusts are under very high pressure with patients who are ill with covid-19.
Currently, 10 other hospitals across the South East are at CRITCON level three, which means they are "at full stretch". Six of these have been at this level for the past week. Essex, to the north of Kent across the Thames, is also under high pressure.
According to data in the dashboard seen by HSJ, Darent Valley Hospital was at 173 per cent of its baseline level of beds for critical care this morning. For level three patients, the highest acuity, 100 per cent of beds are occupied.
Under separate sitrep data seen by HSJ, the Darent Valley Hospital has declared no "unoccupied" beds in its critical care unit — which, at full stretch, has about 20 beds — since 1 January.
The trust also said: "The trust is not and has never been in CRITCON level four."
Updated at 6.20pm with the trust's comment, and to reflect the trust's comment.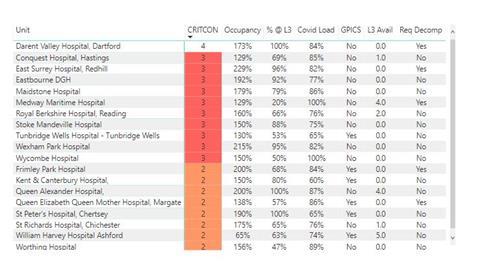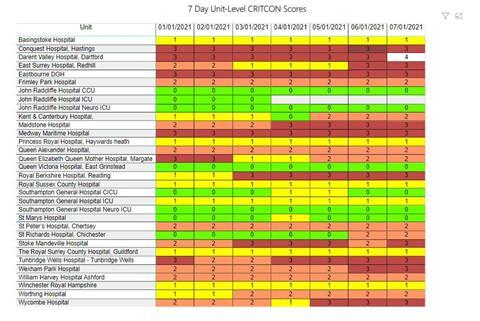 Source
Information obtained by HSJ