"Significant concerns" raised about behaviour of consultants and senior midwives at County Durham and Darlington FT
Report says "finger pointing" culture meant staff were reluctant to raise concerns
Trust working with NHS England on improvement plan
PATIENT SAFETY: Care of mothers and babies is being put at risk due to bullying and a blame culture at a North East maternity unit, a report has warned.
"Significant concerns" about the behaviour of some consultants and senior midwives at Darlington Memorial Hospital have been raised in the independent review ordered by commissioners and County Durham and Darlington Foundation Trust into longstanding problems in maternity services.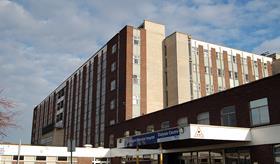 The report, which also looked at maternity care at the University Hospital of North Durham, said "difficult behaviours seem to have been tolerated and not addressed for years", mainly at the Darlington unit.
It found "very heated disagreements" took place between consultants, with some overriding the decisions of others, prompting concerns from staff about risks to patient safety. There were also claims of bullying by midwives.
The report said: "The impact of this type of behaviour and culture poses a risk to patient care.
"Staff said they sometimes felt 'in fear of discussing cases with senior medical staff' and described a lack of respect and distrust between midwives and medical staff and 'poor morale' at DMH.
"When questioned further about 'poor morale' we were told there is a 'blame culture', with finger pointing and criticism, resulting in staff reluctance in escalating concerns and discussing risk issues."
Conflict management training and insight workshops into bullying and harassment had been held but some consultants had not attended.
The review, authored by a senior obstetrician and midwife from York Foundation Trust, is the latest into the trust's maternity services. Issues of leadership, relationships and poor behaviour were highlighted in a similar report in 2009.
The trust's response to the Kirkup report into poor maternity care at University Hospitals of Morecambe Bay also identified a "them and us culture" between maternity and paediatrics, and some consultants persistently refused to follow clinical guidelines as they "don't agree with them".
The new report, which makes 16 recommendations, said overall maternity services were safe and the trust was not an outlier for stillbirths, neonatal deaths or maternal deaths.
"However, it is important to recognise that senior staff behaviours have the ability to erode this safety net and could lead to a serious risk of poor clinical outcomes if they are not formally addressed," it added.
Trust medical director Professor Chris Gray said there were lessons to be learned around the way teams worked together.
"We have been working with our commissioners and NHS England to put action plans in place and are working to ensure that improvements are made from lessons learnt and that our mums and babies are receiving high quality care," he said.
Source
Indepedent review and trust statement