HSJ's fortnightly briefing covering safety, quality, performance and finances in the mental health sector.
Out of area placements are one of the key failures of the current mental health system, but some organisations do quite well from them.
Private hospitals are the obvious beneficiaries, but, perhaps surprisingly, the provider receiving the most financial benefit is East London Foundation Trust.
According to new data from NHS Digital, ELFT received just over £9m from "inappropriate" out of area placements since March 2018. Meanwhile, it has managed to almost eliminate its own inappropriate OAPs.
NHS Digital defines OAPs as "inappropriate" when they are caused by a lack of available beds, as opposed to, for example, a patient being admitted after presenting at accident and emergency while away from home.
After ELFT, the list of top receivers is dominated by Cygnet Healthcare and The Priory Group owned units.
The availability of mental health beds within trusts and the impact this has on OAPs remains a constant concern — illustrated earlier this month by The Royal College of Psychiatrists' call for more beds.
Within this context, it seems an unlikely success story that an NHS trust has become one of the key players in the out of area placement market.
When asked how it managed this, the trust told HSJ it had prioritised investments in community mental health services, which reduced the need for secondary beds.
It also has an inpatient unit reserved for out of area placements.
And by doing this, ELFT has managed to make sure any profit stays within the public purse — something most would welcome.
It sounds simple, doesn't it?
But many trusts have been unable to find the resources necessary to boost community care, without first making a risky decision to disinvest in secondary care before demand has dropped.
National intervention
In June this year, NHS England's director for mental health, Claire Murdoch, sent a stern letter to the 10 areas which appeared to be the worst for out of area placements.
But the latest data suggests the intervention has not yet made a dent in the national figures, with the number of inappropriate OAPs still on the rise since June (both longer and shorter lengths of stay).
Most of the 10 trusts targeted by NHSE have also reported increases. The only trusts among the ten which have since managed to decrease their number of beds days were Nottinghamshire Healthcare FT, South London and Maudsley FT, Southern Health FT and Birmingham and Solihull Mental Health FT.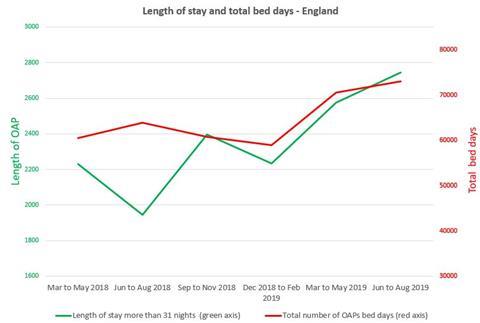 …and the rest?
As it stands, the national data set only covers adult and older adult acute mental health beds, leaving a hole in our knowledge of other areas, such as rehabilitation and children and adolescent mental health inpatients.
These are two areas where additional scrutiny on OAPs would probably show a very bleak picture, but would benefit from greater transparency.
Join us at the HSJ Transforming Mental Health Summit (28-29 November 2019, Hilton Leeds) as senior peers from across the NHS, local authority and wider mental health service delivery landscape discuss the remaining challenges as we reach the end of the Five Year Forward View. Register your interest here: http://bit.ly/2KbYAzJ