PATIENT SAFETY: An NHS trust has been criticised for its slow response after 14 patients contracted MRSA in 11 months after it dropped routine screening.
Dartford and Gravesham Trust was visited by an NHS Trust Development Authority team early in March after reporting 14 cases in 11 months – the highest rate reported to Public Health England of any trust in England.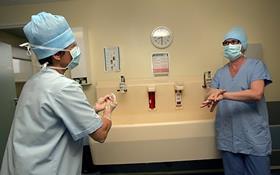 The report, included in the trust's March board papers, said: "The review team are not assured that the trust has taken the necessary action to ensure that risks have been reduced to prevent further cases of MRSA (b)." It added there was "an urgent need for the trust to take immediate action… there has been a lack of pace with this high risk situation".
It said there was a need for the board "to be fully sighted" on the risks around MRSA and board minutes did not reflect the seriousness of the position – although the TDA team were told the directors were "challenging" over MRSA performance. "There's an impression that the trust deflect issues outside of the organisation but have not addressed the factors which are within their control," it said. "There is a lack of ownership of the [infection prevention and control] agenda outside of the IP&C team."
The dropping of universal screening for MRSA in April 2015 was highlighted as a major factor in the cases and the lack of knowledge around transmission, colonisation and infection: screening has now been reinstated. The team also had concerns over the length of time peripheral lines were left in patients: one patient with MRSA had a cannula in for 40 days. The trust had had just one case of MRSA in 2014-15.
The review team warned that an improvement plan agreed with North Kent CCGs in response to the outbreaks would not in itself deliver the improvements needed to prevent cases.
Among criticisms were poor practice around hand hygiene and using personal protective equipment; storage of linen and mattresses; an inconsistent approach to cleaning of patient equipment; and staff being unclear over some approaches. The infection prevention and control team had been short staffed contributing to it becoming "reactive and overwhelmed by the situation". Compliance with infection control training by other areas was sometimes poor, and workload and nurse vacancies made it hard for ward teams to take part.
The TDA made a number of recommendations and has arranged for a short term secondment of a senior nurse to provide support. It also called for a review of 30 day mortality of patients with healthcare acquired infections, starting with those who had contracted MRSA.
In her board report, trust chief executive Susan Acott said the board and trust took infection control seriously and were focused on improving its position, particularly involving MRSA. "The whole organisation is acutely aware of the problems that the trust is facing and is involved in the remedial action plan," she added.
The trust confirmed no one had died as a result of the MRSA cases.
A trust spokesman said: "The increased number of MRSA infections is a great concern and we know we need to improve. We saw an increase in MRSA cases at the end of the year which prompted us to contact the NHS Trust Development Authority (now NHS Improvement) for support and to review our practices and procedures.
"We have already put in place a range of measures to reduce the risk of an MRSA infection such as reintroducing universal screening of all patients and body washes with antimicrobial shower gel for all inpatients as well as an increased emphasis on hand hygiene."
"We are continuing to closely monitor MRSA and no new cases have been identified during March. We are confident the measures we are implementing to address the increase are working and that the number of MRSA cases will be back down to normal levels this year.
"The increase in MRSA happened very quickly in fact but we have nevertheless reflected whether we should have made a more decisive intervention earlier. Difficult situations like this must always cause an organisation to learn and reflect. The Board were challenging, although it is difficult to reflect that in the minutes."
MRSA cases in the NHS have dropped dramatically in the last decade and there are now only around 350 hospital contracted infections each year. Screening of patients pre-admission allows those who carry the bacteria, usually on their skin, to be treated and limits the risks of it being passed to other patients.