Information prescriptions – individual notes for patients to follow – make patients better informed, enabling them to work with doctors and nurses to improve their health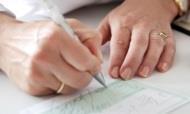 If there is one frustration among clinicians caring for people with diabetes it is that it so often feels like a tick-box exercise.
So says Amy Rylance, head of healthcare professional engagement with Diabetes UK and an advocate for supporting clinicians, so that they in turn can support patients.
"We are often told by healthcare professionals that they have little time to engage with patients," she says. "This was something that was coming from patients too, so we decided to look in more detail at how we could support clinicians, and find a way to make it easier to focus on patients at greatest need."
The answer they came up with was information prescriptions, an evidence based tool that is designed to inform and help patients to work with their doctor or nurse to improve their health.
Based on the three key measures which are part of a routine diabetic care review (HbA1c, cholesterol, blood pressure), these prescriptions provide information tailored to the patient, and encourage shared goal setting and decision making, based on an individual's results.
This kind of information is vital for helping patients to understand what is actually going on, and what it means for their health, says Ms Rylance.
"A patient might not know what high blood pressure means for their health, for example. What we're trying to do is give people the knowledge so they can make sense of it."
The prescription fits on one side of A4, has the patient's name, their results and explanations of what the measures mean. It then has a section on actions to encourage people to set goals, including time frames and how they will achieve it. "It's very action focused," adds Ms Rylance. "And clinicians say it doesn't take them any longer than they would have been spending anyway."
Patients are engaging with the process, which is tied into GP IT systems, she says, with hundreds of people visiting a dedicated website that is linked to from the prescription. "We've been getting 1,200 people visiting a month – that really blew us away," she says.
Stephen Lawrence, primary care medical adviser to Diabetes UK, and former clinical lead for diabetes with the Royal College of General Practitioners, says the tool helps get patients motivated.
"I was part of the pilot group for the information prescription and it's really very good," he says. "It's an excellent way of engaging patients and getting them on board. It gives an individual note for the patient to follow, and it's targeted at the individual. In the past, the patient would be given a long list of verbal instructions, and we know that… patients usually don't retain all that information. Now they have it in their hands to take away."
The tool has been rolled out to GP practices that use two of the main software systems – EMIS and Vision – with the intention of making it available to all practices soon. GPs have welcomed it, says Dr Lawrence.
"The response has been very good. GPs and practice nurses are finding it useful. And we know that patients are using it because of the number of repeated hits to the website."
One of the reasons that practices like it is that it's a more effective way of doing what they have to do anyway. "It's not a 'something else' they have to do – they have to do it anyway to show that they are providing good quality care and get [quality and outcomes framework] points," he says. "But this makes it easier."
Feeling in control
Feedback from patients is that they feel more in control, and like the fact that they have individualised goals for helping them to improve their health. "Patients feel more empowered to follow advice," he adds.
He finds it helpful to work with patients who are informed about their condition. "The informed patient is more concordant," Dr Lawrence says. "It used to be that we talked about compliance, but that was more of an avuncular, 'do it because the doctor says so' kind of thing.
"The intelligent patient wants to understand why you are asking them to do it, and giving them this information achieves improved concordance: they are doing it because they understand it will be better for their health. And for GPs, the only cost is a bit of paper."