Managed properly, temporary staff find the job rewarding – and trusts get workers who are capable of making a full contribution straight away. By Jennifer Trueland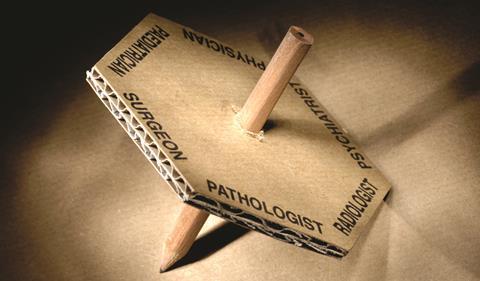 NOT FOR REUSE
As the father of two young children, Shorsh Abdullah values the flexibility of his current life as a medical locum – and is convinced it makes good career sense, too.
But that's not to say it was a decision that the paediatrics senior house officer took lightly.
"I admit I was very scared at first," he says. "I had a regular job before and, financially, I wasn't sure how it would work out. But, actually, it's worked out better financially and I really value the flexibility, too."
'I have experience working in A&E and with neonates, as well as in the children's ward. It means that hospitals can use me where I'm most needed'
Dr Abdullah, from Kurdistan, trained in Iraq. He moved to the UK in 2006 because, as he puts it, "the Kurdish situation wasn't getting any better". At first he was delighted to follow the traditional training pathway, but circumstances intervened. His wife, also a doctor, was working hard to convert her qualifications so that she could work in the UK, and they had two young children.
"It was difficult because we didn't have any extended family here," he explains. "And financially, it meant there was more pressure on me. Working as a locum made more sense."
Based in Nottingham, he is happy to work in hospitals within an hour and a half's drive from home, which gives him tremendous geographical scope – the East and West Midlands and parts of Yorkshire are well within travelling distance. Occasionally he will work further afield if it's a job he likes – for example, he spent three months this summer working at South Tees Hospitals Foundation Trust in the North East.
He believes that employers value good quality, well-trained locums who can adapt quickly to local circumstances and hit the ground running. "It's important to be adaptable," he says. "For example, I have experience working in accident and emergency and with neonates, as well as in the children's ward. It means that – within reason – hospitals can use me where I'm most needed."
Experience broadened
Working in a variety of settings has broadened his experience, both in practical terms – for example, he is accustomed to different techniques and processes depending on which setting he is working in – and in case mix.
"Different hospitals have different electronic systems," he says. "Yes, it can be a challenge at first getting to know the system, and to get passwords and so on, but it means that I have experience of lots of different systems."
In terms of patient care, he points out that in neonatology, incubators for pre-term babies are used in different ways depending on the hospital. "It's very important to keep updating yourself – I'm updating my knowledge all the time," he says. "And having experience of different places really helps me to do that."
'It's virtually impossible for us to have a big enough medical workforce to cover for every eventuality'
His exposure to different diseases is also a huge advantage in terms of his development as a doctor, he says. Rather than working in one general or tertiary centre he sees a variety of conditions, broadening his experience.
Flexibility and adaptability are qualities that employers look for in their locum workforce. Catherine Sowerby, deputy director to the medical director in the quality assurance directorate of South Tees Hospitals Foundation Trust, values the contribution that medical locums such as Dr Abdullah make to the trust.
"As a senior manager, from my perspective, it's virtually impossible for us to have a big enough medical workforce to cover for every eventuality. There will be gaps, for example, when training posts are not filled, for maternity and paternity leave, or when doctors in training are away for exams. Being able to source good quality medical locums helps us to fill gaps."
It's an issue of supply and demand, she says. It's expensive to train doctors, so training too many of them is not a sensible option, particularly if there weren't enough jobs to go round; at the same time, trusts need the flexibility to employ extra doctors when required.
Locum work is mutually beneficial to individuals and the NHS
Flexible staffing in the NHS has long been a hot topic. The recent coverage on the cost of off-contract staff has led to some serious soul searching for the NHS, procurement, government and taxpayers.
The fact remains that the contingent staffing model is here to stay. Working with qualified and compliant locum medical and nursing staff is a reality of modern working life within the healthcare industry, a reality that some NHS trusts have been struggling to deal with. The truth is that our locums are a welcome addition to overstretched and understaffed wards throughout the country.
Since 2011, the Royal College of Nursing has predicted a national shortage of nurses across the NHS. HCL Workforce Solutions has published multiple white papers on this staffing shortage, including Mind the Gap and The Real Emergency in Emergency Departments.
The Centre for Workforce Intelligence predicts that by 2016 there will be a shortfall of almost 50,000 registered nurses within the NHS. Since 2009, under the European Working Time Directive legislation, junior doctors have been limited to a 48 hour working week, resulting in staffing pressures across the country.
Further contributing to this shortage are factors such as retiring medical and nursing staff, and fewer students entering the system. In fact, with each nurse that retires at only 55, a wealth of skill and experience leaves the NHS. Recognising this fact, HCL works with these nurses, helping them to re-engage with the public health sector as locum nurses.
In light of these statistics and in the wake of the Francis report, the Keogh review and the recently established minimum staffing numbers, it is clear that patient safety should never be compromised due to a lack of substantive staff. It is obvious that requesting an agency staff member is not the issue here.
In fact, all too often, contingent staff are the glue that holds our beleaguered health service together. They are highly skilled, agile and qualified professionals who choose to develop their career through locum work. The reasons for medical or healthcare workers to work as locums vary widely but in HCL's experience, the one reason we hear most often is flexibility. It is the flexibility of being a locum staff member that affords these individuals the control needed to fit their careers around their lives.
We encourage an open dialogue with all bodies on how to effectively deal with this issue, to ensure the NHS is fit for modern living.
Claire Billenness is managing director client solutions, HCL Workforce Solutions
High expections
The trust has understandably high expectations of locums: they must comply with regulations and safety and quality requirement, have up-to-date training and also, more intangibly, have a can-do attitude so that they can hit the ground running.
"We expect locums to have the education, training and skills that the role demands, but we also expect them to be flexible and adaptable. Some will have worked here before and will have built up knowledge [of trust procedures] over time. But those who have never been here before will have to be adaptable so that they can contribute straight away."
The trust has been working with HCL to find out what steps it can take to work with agencies, and work with locums, to ensure a seamless process to benefit the locum coming on shift, and the setting where he or she is working. "We want to understand what we need to do for locums," she says.
'It's excellent for them because they can work anywhere and improve their knowledge and skills'
If trusts value the flexibility of being able to draw on high quality locums, Dr Abdullah values the relative freedom that comes from being a freelance doctor.
"I can spend more time with the kids, which is great," he says. "Also, it means I have flexibility over holidays – if I want to go back to the Middle East for a while, then that is okay because I'm a locum, and don't have restricted holidays."
He also believes that locum work is good for doctors at different stages of their career, for example, when they want time off to study for exams, or to do research. It can be particularly valuable for doctors who have finished their training, and who are preparing for their first consultant post, or who have recently become consultants. "It's excellent for them because they can work anywhere and improve their knowledge and skills," he says.
Now that his children – aged four and five – are getting older, Dr Abdullah hopes to find the time to progress with his training and to work towards his ambition of becoming a consultant paediatrician. "It's what I want to do," he says simply. "I've always liked kids, even before I was married with children of my own. And I think they need more care in a way – sometimes children can't tell you what they have, or don't understand what's happening. They need more care, and I enjoy being able to do that for them."