An evidence based template for mental health bedrooms offers a thought provoking example of how the NHS hospitals could do new builds in the future - using standard, repeatable designs. By Catherine Blackledge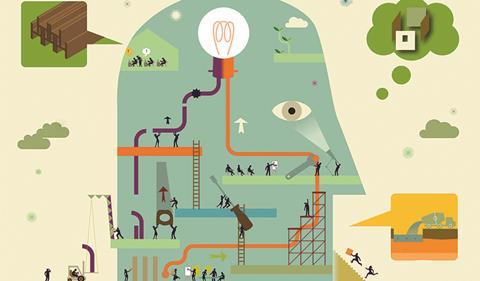 The brief was unequivocal: design a future-proof mental health hospital bedroom therapeutic in terms of space and comfort while being of minimal risk to users – and reduce capital costs. The key to achieving this challenging remit was twofold: underpin design with evidence, and deliver cost reduction through standardisation.
"If I was a chief executive," says healthcare planner and former hospital manager Stephanie Brada, "I would want to be investing in rooms that did not have to be rebuilt in the near future. There is the opportunity to achieve that with our rooms."
Until now, says Ms Brada, core team healthcare planner for Procure21+, the Department of Health's capital procurement framework, it has not been in anyone's commercial interest to determine the best design for mental health bedrooms and repeat it nationally.
Instead, what commonly happens is that each trust goes through a lengthy and costly design and consultation process, typically based on local experience rather than the available research base.
'Rather than reinventing the wheel each time on a project, we have been able to deliver something offline to a project'
However, since 2011, when the government issued the construction industry the challenge to reduce capital expenditure by 20 per cent by May 2015, Procure21+ has been working with "principal supply chain partners" – building contractors – to use standardisation and evidence-based design to bring down construction costs.
Procure21+ programme director David Kershaw says: "Rather than reinventing the wheel each time on a project, which is where we are in the NHS, we have been able to deliver something offline to a project, which we do not usually have the luxury to do.
"We asked what can we do collectively to reach that level of cost reduction. Our thoughts turned to standardisation and we considered what would our starting point be in healthcare."
That starting point was to design the room from the inside out, asking what is the evidence, and what are patients' and clinicians' needs?
"Our driver," says Mr Kershaw, "became not the capital cost, but can we produce a better environment with a lower cost?"
'Based on savings already achieved in the acute hospital en-suite bedrooms, we believe savings will be up to 9 per cent'
The resulting DH-backed Repeatable Rooms and Standardized Components initiative launched its first evidence-based repeatable room for acute hospital settings in February this year; it hopes to release the second phase of its repeatable rooms concept – the functional and organic mental health bedroom – before the end of 2014. (Functional refers to patients who have mental disorder that impaires normal functioning, as with schizophrenia; organic to a brain impairment, such as Alzheimer's).
David Kershaw on capital costs
Buildings may only account for a small part of the NHS budget each year, but they provide the environment for patient care, and can have a positive impact on improved patient outcomes. At the heart of the ProCure21+ cost reduction programme is the focus of providing better, more cost-effective facilities: for example arrangements for the adult acute bedroom are evidence-based and offer capital savings of up to 11 per cent. Eleven different Repeatable Room arrangements were rolled out last February, along with a series of standard components.
The room arrangements, available under free licence, are now being used by four NHS trusts; almost £1m has been saved to date from procurement of standard components (with the potential for £30m annually if universally adopted).
As well as supporting implementation of this programme and advising some 600 trust and stakeholder representatives during 2014, the ProCure21+ Principal Supply Chain Partners (building contractors) have spent this year developing a Repeatable Room for mental health services: a bedroom with en-suite WC and shower room for functional and organic mental health conditions.
Starting as before with a research review in association with London South Bank University, the development process was extended to include structured interviews with volunteer trusts. Three different service user groups were also consulted. Finally, an experience base was convened from national and international projects. Initial proposals were presented to two expert panels, including clinicians, academics, service users, trusts, designers, healthcare planners and royal colleges, then subjected to operational and functional tests.
Final proposals, comprising a bedroom with en-suite adjacent to internal corridor for functional mental health conditions and two organic mental health equivalents with the en-suite corridor side and a nested or parallel arrangement of en-suites, were then presented to a technical panel.
An interesting and potentially far reaching supplementary benefit is that the bedroom envelope may also suit a forensic service. If adopted on a wide scale, trusts would have greater ability to respond to changing acuity levels without a change in bed space numbers, while reducing capital investment. As health minister Dr Dan Poulter said, the cost reduction programme will "save every trust money that can be put into frontline patient care".
David Kershaw is ProCure21+ programme director for principal supply chain partners
Sources of savings
Savings for the mental health bedrooms will come from three streams: efficiency in design and consultation, reduced net areas and use of standard components.
"Based on savings already achieved in the acute hospital en-suite bedrooms, we believe savings will be up to 9 per cent," says Mr Kershaw.
Procure21+ is in talks with manufacturers to agree a standardised components kit to tackle wide variation in specifics and prices for fixtures and fittings; for example, bespoke bedroom door sets range from £372 to £7,090; lights from £111 to £723.
'Procure21+ is in talks with manufacturers to agree a standardised components kit to tackle wide variation in specifics and prices for fixtures and fittings'
Within mental health, notes Ms Brada, robust evidence-based design has additional significance.
"Considering the extent of mental health patients in our community and the current financial position, it means bricks and mortar have to be an active part of the therapy," she explains.
"We see these mental health rooms as part of the therapy. We need to keep patients safe but also very much at ease - it is incredibly difficult and a very great challenge to keep that balance."
As she points out, because of the relatively low numbers of mental health beds in England, typically when a person is admitted they are in crisis, hence safety has traditionally been the overriding design priority - which can lead to a very arid environment, rather than a therapeutic one.
Collaboration is at the heart of mental health transformation
The Procure21+ partners went through a rigorous design process. One strand involved a review of the evidence in collaboration with London South Bank University's medical architecture research unit. Surprisingly, though, other than research around the benefits of access to natural light, there was little robust data linking wellbeing with specific physical factors in the room. Because of this, there was an additional emphasis on engagement with service users.
To produce an "experience matrix", the group called for examplar mental health rooms, organised structured interviews with six mental health trusts, and held workshops with stakeholders and experts in mental health: healthcare architects, planners, estates and clinical staff, the Royal Colleges of Physicians and Nurses and the King's Fund. In total, around 150 people were consulted, a third of who were service users.
This information was then merged with the evidence matrix. This wealth of design data is now available to anyone, not just those using the Procure21+ framework, via a royalty free licence and application to the DH. Details can be found at www.procure21plus.nhs.uk/standardshare
Martin Norton, estates strategic development manager at South Essex Partnership University Foundation Trust was one of the experts consulted.
"I wanted to see a design that was affordable, flexible and adaptable, and incorporated the sort of features and products emerging in the mental health area - the latest lighting, technology, ensuite designs and anti-ligature fittings," he says.
'We have moved away from models that looked at very specific areas of mental health and designed accordingly'
Commenting on the final designs, he notes: "I think we have moved away from models that looked at very specific areas of mental health and designed accordingly. What we are moving towards is a more financially-driven process and more generic design that allows trusts to use accommodation more flexibly. This initiative is a very welcome one."
Flexibility is a core part of the design of the two mental health bedrooms, stresses Ms Brada. The rooms are suitable for either new builds or refurbishments, and while the designs are identified now as being for functional and organic patients staying for a maximum of four to five weeks, Ms Brada is optimistic the rooms could be flexible across the spectrum of mental health.
For patients who need a longer recovery time, there is a design option to extend storage space. Procure21+ is also working to confirm whether the bedrooms meet NHS minimum standards for forensic use.
Standardised acute rooms
With eight years ahead of it, Mr Kershaw says he is confident the initiative will not be just a single project programme. He confirms discussions regarding mental health repeatable rooms are underway with an NHS trust over a £30m project. The third phase of the programme - looking at emergency rooms has begun, and work is due to commence before the end of the year on design for an acute care eight bed cluster.
The first acute repeatable rooms are due to be completed in spring 2016 at Wrightington, Wigan and Leigh foundation trust. Two other NHS trusts – Scarborough Hospital and Basildon and Thurrock University Hospitals Trust – are starting to adopt the designs, as well as the first non-Procure21+ environment at St Luke's Hospital, Market Harborough.
If the concept of repeatable rooms and standardised components rooted in evidence-based design is successful, in 10 years' time hospitals in England will have begun to acquire a distinctive and increasingly familiar feel.
Mental health supplement: 'The rooms are part of the therapy'
1

Currently reading

Mental health supplement: 'The rooms are part of the therapy'

2