The working week is set to get longer, with hospitals moving to seven day working and patients receiving the same levels of care at weekends they currently can only expect Monday to Friday. By Alison Moore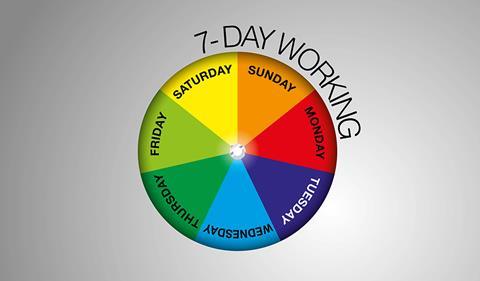 7 day working
Seven day working is coming to a hospital near you. Despite the potential cost and the many challenges, the NHS is slowly moving to a state where patients should be able to get consistent care throughout the week and not just Monday to Friday.
This is likely to be evident most quickly in urgent and emergency care where there is considerable pressure to ensure that staffing changes to match demand, with more senior staff available at weekends and into the evening. But routine treatment could eventually follow with more outpatient appointments and treatments available at weekends.
Diagnostics is likely to be one of the first areas to be affected. Access to scans, pathology and other tests will be vital to allow quick diagnosis and treatment. Diagnostic equipment is likely to be used for more hours per week and for longer periods each day.
Shift system
For many staff that will mean moving from an on-call rota to some form of shift system. Dr Pete Cavanagh, vice president of clinical radiology at the Royal College of Radiologists, says there is already a shortage of consultant radiologists with 9 per cent of posts unfilled. Changes in clinical practice − such as around treating strokes − means that out of hours scans are already becoming more common and are seen as an essential part of a clinical pathway.
'As demand increases, it is becoming less feasible to be disturbed overnight and then do a full day's work'
Previously many hospitals have had an on-call rota but as demand increases, it is becoming less feasible to be disturbed overnight and then do a full day's work, he says. But while radiologists can share rotas across trusts and read scans remotely, the need for a radiographer on site to carry out the scans will increase.
Richard Evans, chief executive of the Society of Radiographers, says one consequence of this move to a shift pattern might be that more routine work is done at the weekend - especially if trusts can't afford more staff, but need to cover more hours.
"Some trusts are doing good work − those that thought ahead and saw that a shift system is the best way to provide those services. But I can think of many others where things have not been so well planned in terms of resourcing. It is being done under pressure," he says.
Hospital wide influence
While much of the discussion around moving to seven day working has focused on the difficulties of getting the right staff in place, the impact will go far deeper. The shift is likely to affect all departments in hospitals, from the canteen to porters, as well as companies that supply and maintain equipment.
A 2011 document from the Department of Health recognised that this would have knock-on effects. "Longer working hours will mean more frequent servicing and equipment replacement for CT scanners, interventional radiology and plain film X-ray equipment," it said.
'The shift is likely to affect all departments in hospitals, from the canteen to porters, as well as companies that supply and maintain equipment'
Minimising downtime for equipment will be important for the smooth running of services: breakdowns at weekends will need to be dealt with as soon as possible. And if equipment is being used for more hours routinely, there will be a reduction in hours when maintenance can be carried out without affecting patients.
This changing need is beginning to be reflected in tenders for maintenance services. A meeting of radiology managers last year found that 48 per cent said their departments were already working seven days in some way but 83 per cent expected to be doing so within three years.
Historically, many hospitals have been reluctant to pay premium rates for maintenance and repairs at weekends. But as imaging equipment is used more intensively across the week the need to keep it in service and to carry out maintenance at convenient times − not necessarily 9-5 during the week − is becoming more pressing.
"If you have a machine that has to be available 24/7 we will have to think about routine downtime," says Mr Evans.
Dr Cavanagh says: "If your equipment goes down at 5pm on a Friday and you are 24/7 you have to get it back. You can't wait until Monday."
Tanuja Khiroya, radiology manager at North West London Hospitals Trust, says the department already runs extended hours during the week and at weekends in response to the growing demand on diagnostics. As the NHS moves to a seven day model, radiology departments will need equipment support at weekends and evenings that is structured and affordable to ensure equipment is operational 24/7.
Supplier rethink
To meet these changing needs, suppliers and contractors will have to rethink what they offer in the evenings and weekends as well.
"The service that we traditionally offered out of hours was literally an engineer," says Nick Page, customer services and operations manager at Philips Healthcare. "But customers may want more - for example remote support from an engineer who can retrieve the details of a problem, or getting hold of parts out of hours."
From 1 April, the company will offer a "remote engineer" helpdesk, backed by the company's logistics department, from 8am-8pm seven days a week - moving from 9am-5pm on weekdays only. This should allow many problems to be resolved and, if necessary, parts obtained and engineer visits booked. Previously a call late on a Friday morning might not be responded to until the following Monday: now action can be taken that evening.
Most radically, the company's engineers will be available from 6am to midnight across the week − increasing their hours of availability from 40 a week to 126. In many cases Philips expects this will amount to a same day service for trusts.
'A more responsive service can save trusts money'
Mr Page argues that a more responsive service can save trusts money by, first of all, ensuring that expensive equipment is available as much as possible and, secondly, that operating costs can be reduced and patient outcomes improved by having it available.
If a patient has to remain in hospital over a weekend because a CT scanner is not available, which is both expensive and may delay appropriate diagnosis and treatment, he says.
Ironically, developing this extended service has meant Philips has had to go through the same sort of change process that its clients will have to.
Consulting with staff around changed working hours and looking at whether some routine work will now have to shift to the weekend are just two aspects of this that will be familiar to trusts.
Nick Page on the case for seven day healthcare
The arguments for provision of a seven day healthcare service are becoming ever more compelling. This is especially so in light of several high profile reports including the recent Dr Foster study showing that mortality rates at weekends are more likely to be much higher compared with those during the working week.
Add to this the important report from NHS medical director Sir Bruce Keogh on seven day working and it becomes apparent we have reached a crucial stage in how healthcare is delivered. However, as the NHS evaluates how it could move towards offering patients better, safer and high quality healthcare every day of the week, we should also ask what this means for healthcare technology providers. What role can they play in supporting clinical services seeking to embrace a seven day operating model in the bid to improve efficiency?
Increasing hours and days of operation will undoubtedly impact on a multitude of areas and inevitably on the need for greater equipment use. Therefore, for suppliers, the challenge will be to respond to this demand. If a critical CT or MRI system goes down on a Friday evening or over a weekend it will no longer be acceptable to wait until Monday morning to log a call to a technical helpdesk or request a visit from a service engineer. Suppliers will, therefore, need to re-evaluate and adapt their own service provision, particularly in the context of those clinical departments where keeping downtime to a minimum − whether for routine maintenance or essential repairs − will be critical to performance and patient outcomes.
Until equipment manufacturers have the technology to reliably predict failures remotely, which is not so far away, then moving from the traditional 9am to 5pm approach towards a standardised maintenance service from 6am to midnight seven days a week will provide a significant step in improving equipment availability and help shift planned maintenance to weekends or out of hours. However, successful delivery of this new way of working will require the capability to not only have engineers on site but also the backing of the full service infrastructure including technical support and spare parts and logistics.
Only by being ready to adapt and evolve to reflect the needs of healthcare partners will suppliers truly be playing their part in the challenges ahead, enabling clinical departments to get on with the job in hand, giving them one less thing to worry about and, more importantly, ensuring patients get a consistent level of quality care - whatever day of the week it happens to be.
Nick Page is customer service and operations manager at Philips Healthcare