The move to paperless systems can seem a big one to trusts but its champions say the subsequent savings make the effort worthwhile, writes Jennifer Trueland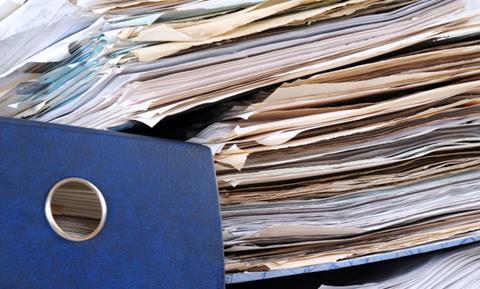 Saving money while improving patient safety and quality of care must be considered the holy grail of modern healthcare.
That is no doubt part of the reason why most trusts have moved to electronic requesting and reporting of both radiology and pathology - also known as "order comms".
So as the health service moves towards the ambition of being paper free, will the remaining trusts be persuaded to bite the electronic bullet?
Paper free positives
According to Ed Harris, associate product manager for Sunquest Information Systems, there are huge advantages to moving to a paper free order comms system.
The headline benefits include reduced cost, streamlined work processes, reduced risk of human error, and improved ability to audit and report on activity. There are also opportunities for workforce redesign.
At Leeds Teaching Hospitals Trust, for example, the introduction of Sunquest ICE (Integrated Clinical Environment) has allowed rationalisation of the mammography reception team, with some members of staff deployed elsewhere in the organisation.
"There are real benefits for patient safety with moving away from paper-based requests," says Mr Harris, adding that there are systems that flag up if a test has been recently performed, giving an additional check for the ordering clinician.
'Moving away from paper-based requests means the patient doesn't have to be bled again'
"It means the patient doesn't have to be bled again," he says.
Sunquest has a 65 per cent share of the market in the UK, with more than eight in 10 trusts already deploying some form of order comms.
The Royal Liverpool and Broadgreen University Hospitals Trust was a relatively early entrant to the field, beginning to use Sunquest ICE in 2005, in the first instance for pathology investigations. It has since been rolled out to include results for pathology, radiology and other specialist departmental systems, as well as referrals, discharge letters, clinical forms, patient lists and alerts.
As well as being used in the trust's hospitals, and in community settings, more than 100 GP practices across the Liverpool and Sefton area also use ICE to place orders and view results. This is significant for the trust because GP practices account for around half of the work in the Royal Liverpool's laboratory.
According to a trust spokesman, more than 3,000 healthcare staff across Liverpool use ICE every day. On average, more than 6,000 requests are made daily, including bloods, x-rays and consultant and specialist nurse referrals. These result in more than 12,000 reports in acute care and GP practices.
Manpower savings
Royal Liverpool and Broadgreen University Hospitals Trust has realised significant benefits from moving to paperless ordering. These include hard cash savings of more than £6,000 per month in lab reports, and £15,000 per year on printing and toner in radiology.
But it also saves on manpower. The trust estimates that radiology electronic alerts save 15 hours of administrative and clerical time each week, and seven hours of portering time (for delivering paper reports to wards) and that there are some 20 fewer appoint-ment query calls to radiology every day.
Managers believe they are saving 6,000 pieces of paper per month, saving money on stationery and reducing inappropriate referrals. The system is also being used to help the trust meet CQUIN targets.
The situation is similar in Peterborough City Hospital, which took the decision to move to a paperless requesting/reporting system for radiology, having already invested in ICE for pathology.
'A trust estimates that radiology electronic alerts save 15 hours of administrative and clerical time each week'
Implementation began in 2006 and the system (for radiology and pathology) was rolled out after a six-month testing period.
Staff training was important, and involved the use of simple cards with information on how to make a request and view a report.
Clinical staff were involved in drawing up the rules and questions around making a referral to ensure they were relevant to the users.
No paper is produced during the requesting stage, and a simple label is produced when the patient attends, again cutting stationery costs.
The trust has reported that delays for tests and procedures for patients have decreased, and that throughput of patients throughout the hospital has improved.
The system allows referrals to be made more efficiently and safely, the trust reports. The process time between the clinician making the request and the radiology department receiving it has been substantially reduced and, because the relevant clinical information is gathered at the point of request, the radiology department is able to "vet" the request more quickly.
Hospital transformation
Leeds Teaching Hospitals, one of the biggest NHS trusts in England, decided to implement ICE as part of its hospital transformation programme. The trust decided to go the order comms route for several reasons: at least 80 per cent of other local trusts had already done so; the system could be used for a number of functions; and because it streamlines processes, makes better use of clinical and administration time, improves quality of care, and can help eliminate paper records.
Having looked at how other trusts had implemented the system, managers concluded that there seemed to be no standard method that worked better than any others, with some choosing to implement GPs first, followed by secondary care, while others chose to implement pathology requesting first, before radiology.
The trust decided to take a phased approach, starting small, then with a wider rollout. In the event, it was decided to go live with GP pathology and radiology together, and in August 2012 the first of 12 early implementer GP practices went ahead.
'It's definitely a better system and saves aching hands from writing endless tubes'
Up to a day was spent training staff, setting up label printers and giving support during the first requests, which covered pathology requests (excluding blood bank and histopathology), plain film radiology, which involved paper free requests; and breast imaging via clinical forms.
Feedback from GPs was largely positive, with comments remarking on the time saved, and the benefits of having a clear trail from request to result. "Definitely a better system and saves aching hands at the end of the day from writing endless tubes," reported one clinician.
As far as the users are concerned, then, the jury is no longer out on the moved from paperless requesting; the result is a big thumbs up.
The digital dream takes off – an HSJ paperless NHS supplement
1

2

3

4

5

Currently reading

Tearing up all that has gone before