East and North Hertfordshire Trust to replace 21 nurse posts with nursing associates
Royal College of Nursing warns the move is worrying and will short change patients
Nursing associate role is being developed by Health Education England
The Royal College of Nursing has criticised plans by an NHS trust to replace more than 20 registered nurse posts with nursing associates.
East and North Hertfordshire Trust has denied its move amounts to substitution of nurses by the new role as the nurse positions are vacant.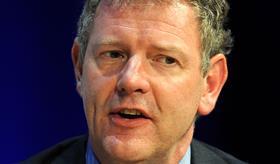 Janet Davies, RCN chief executive, said it was a "worrying move" and warned that patient outcomes relied on more nurses. She warned replacing nurses with nursing associates would mean patients being "short changed."
East and North Herts trust is a pilot site for the new nursing associate role, designed by Health Education England as a bridge between healthcare assistant roles and registered nurses.
Replacing the band five nurse roles with NAs will save the trust £130,000 a year, according to board papers seen by Nursing Times.
Nursing associates will be paid band three wages while being trained, before moving to band four after the two year programme.
According to board papers, the trust reviewed its nurse establishment in April 2016 and, in anticipation of being selected to test nursing associates, put forward proposals to its board to convert 24 band five nurse posts into the equivalent number of nursing associates.
It planned to convert one nurse vacancy across 24 inpatient wards, excluding its maternity and intensive care units. The first 21 posts will be replaced in April when new NAs start training.
Peer reviewed evidence of nurse staffing, healthcare assistant staffing levels in NHS hospitals and the use of licensed practical nurses in the USA do suggest increased risks to patient safety from the substitution of nurses by non-nursing roles.
East and North Hertfordshire Trust recorded higher than expected summary hospital level mortality indicator rates in five out of eight reporting periods since 2014.
Ms Davies told HSJ: "This is a worrying move and another reminder of the need for more nurses to deliver safe care.
"The RCN repeatedly warned the government that its failure to recruit and retain registered nurses would lead to nursing associates replacing them. It is just not fair on nursing associates to expect them to deliver the same standard of care as a highly trained registered nurse.
"Support staff must supplement their work, rather than replace them."
She added: "Patients are being short changed too. Health outcomes are improved when greater numbers of registered nurses with the right skills mix are on duty."
A spokesman for the trust told HSJ: "Funding for 24 vacant band five nursing posts, to which the trust has not been able to recruit for some time, has been removed from the trust's establishment and used to fund 25 new nursing associate posts that form part of a two-year pilot that will be reviewed formally once it has completed; it does not change the ward-based registered nurse ratio for the trust.
"These new staff members start with the Trust from April 2017."
East and North Hertfordshire Trust acting chief nurse Liz Lees said: "At the heart of this work is the principle of having the right staff, with the right skills and competencies, in the right place.
"Incorporating these new roles within our ward-based establishment does not compromise our registered nurse to patient ratio, on which we are well within national guidance. The roles also provide an alternative route in to the graduate training programme for nursing."
She told Nursing Times: "We have got vacant roles. So it's not role substitution, its enhancing the team… We can't recruit to all of these band five posts. So it's really using what we've got as effectively as possible."
Existing band two support workers were selected for the pilots and the empty posts the associates leave behind will be backfilled, said the acting chief nurse.
She said she had no further plans to convert more nurse vacancies into nursing associate posts.
Since the government announced its plans for associates at the end of 2015, unions, academics and leading figures have warned the new role must not be used to replace registered nurses.
At a recent meeting of HEE's board the education body's chief executive told directors that safe staffing was not the remit of the body.
Mary Elford, a non-executive director, and vice chair of East London Foundation Trust, noted there was "a concern about how this work will relate to safe staffing figures and the correct ratios the NHS expects to be in place in terms of different registrant groups".
Professor Ian Cumming, HEE's chief executive, said: "We will be clear about what the competencies are. We will be clear about the roles these individuals can be used in, but what makes a safe nursing team on a ward isn't our territory."
He said the role would be independent evaluated by a university, adding: "[HEE is] responding to a demand from the system that said they wanted a role that sits between a healthcare assistant and a degree level nurse. How they are used safely is NHS Improvement and the Care Quality Commission's territory rather than ours."
Source
Nursing Times and information provided to HSJ