Professor Stephen Smith appointed chair of East Kent Hospitals University FT
He was chief executive of Imperial College Healthcare Trust from 2007 to 2011
Will oversee appointment of a new permanent chief executive
A former chief executive of Imperial College Healthcare Trust has been appointed as chair at one of the country's most troubled trusts.
Stephen Smith will take over at East Kent Hospitals University Foundation Trust later this year.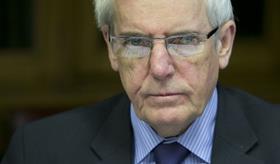 He is also a non-executive director of Great Ormond Street Hospital for Children FT.
One of Professor Smith's first priorities is likely to be recruiting a permanent chief executive. Dartford and Gravesham Trust's chief executive Susan Acott has been leading East Kent on an interim basis but is expected to return to her own trust at the end of March.
The trust has been without a permanent chief executive since September when Matthew Kershaw and chair Nikki Cole left after criticism of the trust's accident and emergency record, which was believed to be the worst in England.
Professor Smith was chief executive of Imperial from 2007 until 2011 and prorector of the associated medical school. He led the establishment of the first academic health science centre at Imperial. He then became founding dean of a medical school in Singapore, set up by Imperial College and a Singaporean university, and then dean of Melbourne University He is a former professor of obstetrics and gynaecology at Cambridge University.
Professor Smith said: "I am passionate about patient care, and patient and staff experience. Leading a healthcare organisation is a significant responsibility and a huge privilege. I am looking forward to meeting the teams of dedicated clinical and support staff, and helping the trust achieve high standards of care for our patients."
Interim chair Peter Carter, who joined the trust in October, said: "I am delighted that we have been able to secure a permanent chair of such high calibre and experience.
"I have enjoyed enormously my time as interim chair of the trust, meeting many of its excellent staff. One of the most important parts of the job has been working with our governors to find a permanent successor to support the trust to overcome some of the more recent significant challenges we are all experiencing in the NHS and build on the improvements that saw the trust come out of quality special measures in 2017."