New hospital centralising emergency and specialist services an option in East Kent
Health economy has struggled with A&E performance and vacancies
Quinn Estates offers to build hospital in exchange for planning permission for 2,000 houses
A new hospital offering centralised emergency and specialist services for the struggling east Kent health economy is under serious consideration, it has emerged today.
Local leaders are considering building a new hospital in Canterbury – where health services have been a key local political issue for many years and one of the main sites of the struggling East Kent Hospitals University Foundation Trust.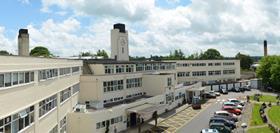 The new facility would supplement the ageing Kent and Canterbury Hospital, and would be part funded by a housing developer – but would still cost the local NHS several hundred million pounds.
Major changes have been anticipated for East Kent's three major acute hospitals for some time with some services expected to be centralised at Ashford or Margate.
However, at a council meeting today, trust leaders revealed two options – including one making Canterbury the central site for services – are under consideration by commissioners.
One option would see two emergency hospitals, one of which would also offer specialist services. This would be the William Harvey Hospital in Ashford, with the Queen Elizabeth, the Queen Mother, Hospital in Margate also having a 24/7 accident and emergency department. Kent and Canterbury would have a 24/7 GP led urgent care centre.
The unexpected second option would involve a new build hospital connected to the current Kent and Canterbury site, operating as the single major emergency centre for East Kent with a 24/7 A&E and all specialist hospital services. The two other sites would have 24/7 GP led urgent treatment centres with diagnostics, day surgery, outpatient services and rehabilitation.
A developer, Quinn Estates, has already offered to build the shell of a hospital on land in the area in return for planning permission for 2,000 homes. This would allow the NHS to fit out the hospital for less than half the £700m-£800m cost of a completely new 900-1,000 bed hospital, according to details released by the trust today. A completely new hospital is not being considered as it would cost too much and would take too long to build.
The options will be discussed next week by the four clinical commissioning groups in East Kent but details were released this morning when executives from the FT appeared at Kent County Council's health overview and scrutiny committee. However, councillors questioned the viability of the new build option, the transport implications and whether the level of investment needed for additional community based services was likely to emerge.
The proposed changes are being driven by a number of factors. The trust has struggled to fill vacancies and attract specialist staff, especially in Margate. It has also been a poor performer on accident and emergency targets – leading to the departure of its chief executive earlier this year.
The loss of services at the Kent and Canterbury, including changes to its A&E, has been politically controversial for many years and may have played a part in the Conservatives losing a "safe seat" in the general election.
Simon Perks, accountable officer for Ashford and Canterbury and Coastal CCGs, said: "Over the last 18 months hospital consultants, GPs and nurses have developed proposals for a different approach to urgent and emergency care, acute medicine, specialist services and planned inpatient orthopaedic services in east Kent.
"We have tested this with patients, carers, the public and communities and now have a list of potential options. If agreed, this list will undergo further testing and evaluation by health professionals and patient representatives over the coming months, to reach a shortlist which, subject to agreement with NHS England, we will consult the public on next year to get their views and feedback on our proposals."
Commissioners will also look at a range of options for planned orthopaedics, which could be located at one or two sites in East Kent.
Any proposed changes are likely to go to public consultation in the spring.
The HSJ Strategic Estates Forum is taking place on 20 March at BMA House in London. This is a high-level strategic forum that brings together estates directors, STP estates leads and trust board leaders responsible for the estates function who are developing strategic plans for their organisations and local health economies. The focus of the forum is on issues such as the delivery vehicle for the Naylor Report, the creation of Project Phoenix, advice on establishing SEPs (Strategic Estates Partnerships) and assessing progress of STP estates plans. Sir Robert Naylor, National Adviser, NHS Property and Estates; David Williams, Director General of Finance, Department of Health and Simon Corben, Head of Profession, NHS Improvement are all confirmed as keynote speakers for the event. Register your interest for this free-to-attend event on our website: https://strategicestates.hsj.co.uk/register-your-interest-attending