Trust says "major efforts made by staff in the hospital to support training" were "not enough" to keep the trainees
Thirty-eight junior doctors at East Kent trust will be affected
Junior doctors and affected patients must transfer by 19 June
A trust recently removed from special measures has less than two months to move nearly 40 junior doctors from one of its hospitals, after Health Education England found consultant support for trainees was "not adequate".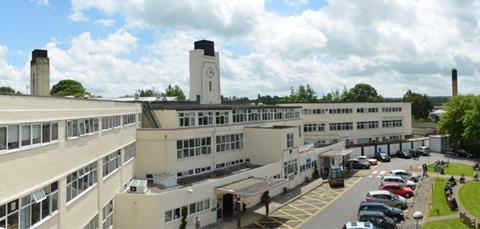 Kent and Canterbury Hospital
Kent and Canterbury Hospital, run by East Kent Hospitals University Trust, is set to lose 38 of its junior doctors, after HEE recommended it transfer the training posts to its two other hospitals in the interests of patient safety.
This is four fewer than initially reported by the trust because four of the posts were unfilled, a trust spokesman said.
The trust said new placements for the junior doctors and new patient services will be in place by 19 June.
East Kent was removed from quality special measures last month after being rated requires improvement.
The 38 doctors will be relocated to the William Harvey Hospital in Ashford and Queen Elizabeth The Queen Mother Hospital in Margate, as will patients affected by temporary combining of services, the trust said.
The move is expected to affect up to 50 of the 900 people who attend Kent and Canterbury Hospital each day.
Services affected include heart, acute stroke and some inpatient services for elderly patients with serious illnesses such as pneumonia.
The trust spokeswoman said: "As a teaching trust, we are committed to providing high quality training and we will respond to any recommendations positively because we know what is best for both our junior doctors and for our patients."
In a Q&A statement, the trust highlighted its work to try to recruit permanent consultants and the "major efforts made by staff in the hospital to support training".
However, Health Education England decided these were "not enough" to keep the trainees at KCH, the statement said.
The trust had worked closely with Health Education Kent, Surrey and Sussex and NHS England since 2015 to improve junior doctor training, the statement said.
This included changing the way that emergency care was delivered at Kent and Canterbury Hospital, so that minor injuries and minor illnesses would be treated from a primary care led urgent care centre, and patients with more serious conditions would be treated in an acute medical admissions unit.
The trust said these changes, carried out with the support of HEKSS and NHS England since July, resulted in "improved provision for junior doctors and an improvement in quality [of patient care]".
"Despite this, HEE and the General Medical Council have decided this is not enough to maintain junior doctor rotas onsite," the trust said.
HEE declined to comment on this statement, but said: "We will continue working with the trust and other partners including the GMC, NHS England, NHS Improvement and the Care Quality Commission over the coming weeks to ensure that this change in the distribution of trainees does not put patients at risk, and that trainees are able to access the support and education for which they are placed with the trust."
Source
Information provided to HSJ