East Kent Hospitals faces huge backlog of ophthalmology appointments
Trusts escalated more than 12,000 patients needing urgent follow up
Another 11,000 people waiting for a date for overdue follow up appointments
A teaching trust is struggling to see a massive backlog of ophthalmology patients waiting for follow up appointments.
East Kent Hospitals University Foundation Trust has escalated 12,713 patients needing urgent follow up. A further 11,000 people are waiting to be given a date for overdue follow up appointments – including 151 thought to be at high risk of delays affecting their sight.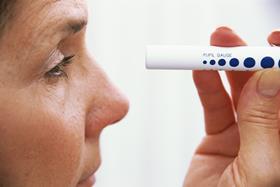 The trust said the backlog is due to new external providers being unable to mobilise as planned – leaving the trust to cope with thousands of additional appointments. Commissioners in East Kent tendered for new providers to deliver follow up services for patients with wet age related macular degeneration in 2015-16. The trust did not bid for this service, which will see 10,000 people a year, because growing demand from wet AMD patients was affecting its ability to see other patients and it did not have enough capacity to provide the service.
However, when the new providers could not mobilise quickly the clinical commissioning groups continued to commission the trust to provide ophthalmology follow up appointments to ensure patients were not put at risk. The trust put on additional clinics at weekends and has recently recruited additional ophthalmologists and technical staff, but it has still struggled to see the number of patients needing follow ups.
A statement said: "This year, we have seen 2,000 more ophthalmology patients than last year, and as a result of this work we now have only 151 patients considered to be high risk waiting to be allocated a follow up appointment. This patient group remains a priority for the trust.
"The demand for ophthalmology services in east Kent totals 45,000 episodes a year; the trust has provided for 39,000 episodes so far this year and continues to see urgent patients within eight weeks.
"The trust has now has the full ophthalmology team in place and is working with commissioners and external providers to reduce the waiting list. We plan to reduce the current list to a sustainable size by the end of March 2018."
A report to the trust's board said: "Glaucoma and medical retina patients… carry a risk of either sight deterioration or loss. There is a lack of outpatient capacity to manage the backlog and maintain the current patient cohort."
A spokeswoman for the east Kent CCGs said they have commissioned four community providers of follow up services for patients with wet Age-related Macular Degeneration:
Spencer Private Hospitals at William Harvey Hospital and Queen Elizabeth the Queen Mother Hospital in Thanet started to see patients several weeks ago taking direct transfers from EKHUFT.
Estuary View Medical Centre in Whitstable will start seeing patients in the first week of February 2018.
New Hayesbank Surgery in Ashford and St Annes Group Practice in Herne Bay are still mobilising and are not expected to start providing a service before February 2018.
She added: "The new community providers will take over the care of appropriate patients once they have had their initial diagnosis and first treatment.
"The current community service was expected to mobilise in September 2017 and ability to mobilise was confirmed by the clinical commissioning groups as part of the negotiations with the new providers.
"However, discussions about the pathway resulted in the start of the new service being delayed.
"In January 2018, there will be an independent review of prescribing for wet AMD in east Kent to reach agreement about the most clinically effective treatments for patients. This review will involve [East Kent Hospitals] consultants, the new providers, NICE and a consultant from Moorfields, along with commissioners and the CCG's medicines management team."