A large acute trust is considering seeking funding from a local authority pension scheme to carry out much needed redevelopment work.
East Kent Hospitals University Foundation Trust's latest board papers said it has approached the Kent County Council about "funding via pension funds".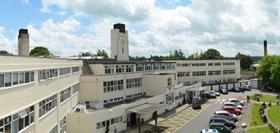 The trust would not expand on what is planned and the council said no approach had been made to its pension scheme or its chief financial officer to date.
The trust has a £74m backlog of work across its estate and has experienced problems such as burst pipes and leaking roofs this winter. However, it has a longer term strategy to reconfigure services which would affect much of its estate and could impact on what work it would want to do in the short term.
The two options being considered for service reconfiguration by the East Kent clinical commissioning groups would cost either £160m or £250m, depending on whether specialist services and emergency care were enhanced at William Harvey Hospital in Ashford or provided in a new building in Canterbury.
A property developer has offered to build the shell of a new hospital in Canterbury in exchange for planning permission elsewhere, but fitting out the new hospital and other works is still expected to cost £250m. The redevelopment of existing hospitals, including making the William Harvey the major accident and emergency centre for the 700,000 population of east Kent, would cost £160m. The trust also has a significant backlog of maintenance at its existing sites.
Kent County Council's pension fund was valued at £4.6bn in 2016. It is possible fund managers might be attracted by the guaranteed return an investment in new NHS buildings could offer. This could be cheaper for the NHS than other forms of funding such as the revised private finance initiative scheme.
However, fund managers are usually required to work to maximise the value of the fund and might view the likely return from a hospital as too low even if it is implicitly guaranteed by the government.
North Tees and Hartlepool Hospitals FT hoped to get funding for a new hospital from commercially run pension funds in the early 2010s. However, a number of potential developers dropped out because of concerns over who would bear the risk of the project being delayed. The hospital has never been built.
Other initiatives involving local authority funding for health facilities have tended to be on a smaller scale and some rely on the cheap funding that councils can get through the Public Works Loan Board. Northumbria Healthcare FT bought out an existing PFI deal with a local authority loan but this has not been repeated elsewhere.
Source
Trust board papers; information provided to HSJ