NHS England agrees to commission robotic surgery from East Lancashire Hospitals Trust
Commissioners say equipment purchased by the trust could be moved elsewhere as part of an ongoing review
Trust says urology robot has improved services for patients across the county
ACUTE CARE: NHS England has agreed to commission some robotic surgery from an acute trust in the North West, on the condition that the equipment could be moved elsewhere as part of an ongoing review.
Last year, the national body said East Lancashire Hospitals Trust had ignored its guidance by spending £1.5m on a urology robot. The service has not been fully commissioned until now.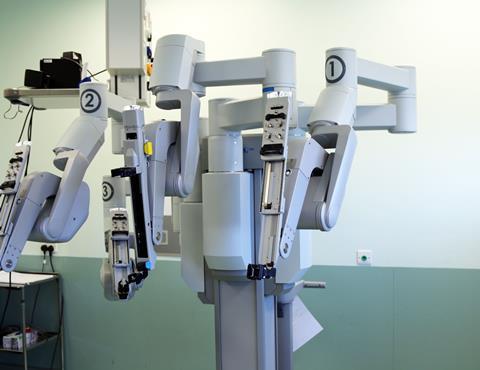 The trust installed a Da Vinci robot at the Royal Blackburn Hospital last June, which has now been used by cancer surgeons to remove more than 60 prostate glands. The trust did not receive the proper tariff price for these procedures as there was no commissioning agreement for robotic surgery.
Urology cancer services are subject to an ongoing review across Lancashire and south Cumbria, with the need for a single site for specialist surgery in order to meet the specifications.
In terms of case volumes, the Royal Blackburn is the smaller of two centres in the network. Lancashire Teaching Hospitals Foundation Trust hosts a larger service at the Royal Preston Hospital.
Leaders at Preston had previously considered purchasing the robotic equipment but were waiting for further NHS England guidance.
The review has now been rolled into the region's sustainability and transformation plan.
NHS England said the robotic equipment could be transferred to Lancashire Teaching Hospitals if it is chosen as the single surgical site.
Andrew Bibby, assistant regional director for specialised commissioning, told HSJ: "NHS England has agreed East Lancashire Hospitals Trust will carry out robotic assisted surgery for urological cancer. However, this is an interim arrangement so patients can benefit from the service.
"In the long term there will be a county-wide single service and a decision around where the service will operate from will be made following discussions with the trusts and in consultation with the public.
"For the duration of this interim period prostate cancer surgeons from both East Lancashire Trust and the other provider of prostate cancer surgery will have access to, and be trained up in, the use of robotic surgery."
Damian Riley, executive medical director at East Lancashire, stressed the robot had improved services for patients across the whole county.
He said the robot could potentially be used for other types of surgery, so there may be a scenario where more than one trust has the equipment. He added: "My understanding is the consideration of a robot for Lancashire was on the agenda for several years, but no other funding was agreed. We did it for the whole of Lancashire."
It could be up to three years before a single surgical site is implemented, he said.
Source
Information provided to HSJ