Andy Haynes to leave role next spring
Started working in Nottingham in 1986
Nottingham and Nottinghamshire ICS chair also leaving
Nottingham and Nottinghamshire Integrated Care System's executive lead is to retire in March after 36 years of working in the NHS.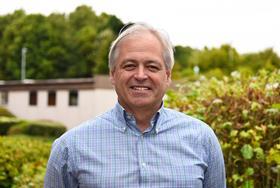 Andy Haynes will step down from his post next spring. He took on the executive lead role in September 2019, having previously been the ICS' medical director.
He was also previously executive medical director and deputy chief executive at Sherwood Forest Hospitals Foundation Trust, and was part of the executive team which took it from an "inadequate" Care Quality Commission rating to a "good".
Dr Haynes has worked in the NHS for his whole career. He first came to Nottingham in 1986 to complete basic medical training to become a member of the Royal College of Physicians and a doctorate, before starting training in haematology. After moving to Edinburgh in 1990, he returned to Nottingham in 1994.
After the 2006 merger of Nottingham City Hospital and Queen's Medical Centre trusts, Dr Haynes led transformation programmes to deliver service improvement across the newly-formed Nottingham University Hospitals Trust. He was a senior lecturer and consultant in haematology between 2000 and 2007 and emergency pathway lead clinician between 2007 and 2012.
He also played a significant part in developing the Maggie's Centre in Nottingham to support patients and families living with cancer.
Dr Haynes said: "It has been a pleasure to work with fantastic colleagues and teams over the years. It is a privilege to help people at their most vulnerable and I am humbled by the kindness families have and continue to show…
"My path has been an interesting one from a free school meals child in a Sheffield pit village to senior leadership in the NHS. I hope it will inspire others to make that journey."
Amanda Sullivan, accountable officer for Nottingham and Nottinghamshire Clinical Commissioning Group, said, "I have known Andy for many years, including working together closely on the Mid-Notts Alliance, which laid many of the foundations for the integrated working and strategic commissioning that we now see bearing fruit across our patch. Andy's clinical expertise and knowledge speaks for itself and I know he is held in the highest regard nationally, regionally and locally."
Richard Mitchell, Sherwood Forest Hospitals FT chief executive, added: "Andy has too many achievements to detail in full but I will remember him for his unrelenting focus on the system and the key role he played in improving life at Sherwood."
Departing chair
Meanwhile, Nottingham and Nottinghamshire ICS chair David Pearson will also be leaving the organisation in March when his contract ends.
Mr Pearson is currently leading the social care sector covid-19 taskforce and reporting to care minister Helen Whately.
The ICS is in the late stages of recruiting a new independent chair to succeed Mr Pearson and the ICS said it would work with Dr Haynes to establish a "robust recruitment process" for a new executive lead.
Source
Nottingham and Nottinghamshire ICS statement