Colchester and Ipswich trusts set to approve merger plan
Boards to discuss proposal that "recommends forming a single combined organisation"
Trusts would work towards full business case approval in "around June 2018"
Struggling Colchester Hospital University Foundation Trust and neighbouring Ipswich Hospital Trust are likely next week to approve plans to merge.
The two boards, already led by a joint chief executive, will discuss an outline business case, which "recommends forming a single combined organisation with fully integrated clinical services", at an extraordinary meeting next Thursday.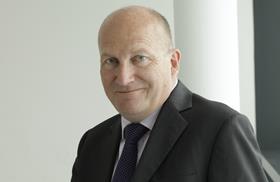 A final decision would be taken by both trusts' boards "around June 2018". The merger would also require approval from NHS Improvement and the Competition and Markets Authority.
The trusts said "staff, patients, clinical experts and health and local authority partners of both hospitals [who were consulted in the last six months] have recommended that a full integration into one trust would offer the biggest benefits for patients in future".
Leaders from Ipswich and East Suffolk Clinical Commissioning Group and North East Essex CCG have backed the plans.
The move follows regulators threatening special measures trust Colchester with the failure regime, and potentially liquidation, unless it established a "long term partnership" with Ipswich in April 2016.
Partnering the two trusts "is the only way of securing services for patients long into the future" because of Colchester's unsafe services, regulators said. The Care Quality Commission said it had "no confidence" in Colchester's incumbent board. The CQC originally recommended that the trust be put in special measures in 2013.
Ipswich chief executive Nick Hulme was then appointed joint chief in May 2016 in preparation for the partnership. Mr Hulme told HSJ last year that plans to merge the trusts had been put on "the back burner" while Colchester's systemic failings were dealt with. He said after he had done his due diligence, it emerged "things are worse here than I thought".
Mr Hulme said today: "I feel a strong sense of pride and commitment to a new future for both hospitals. It is a tremendous opportunity for us to change the way we do things, to be bold, innovative and imaginative in delivering the best possible healthcare to people who live in east Suffolk and north east Essex."
Ipswich and East Suffolk CCG chair Mark Shenton said: "There are many real tangible benefits to patients and staff outlined in this new business case. It has been developed in partnership with clinicians, colleagues, staff and patients and I welcome its ambition to deliver high quality, compassionate care to everyone who is served by the hospitals."
North East Essex CCG chief officer Sam Hepplewhite said: "Our communities in north east Essex need healthcare services that are reliable, easy to access and very high quality. This case shows how a partnership of hospitals can help us to offer that level of care sustainably in the future."
Source date
17 August 2017