The NHS Commissioning Board is drawing up plans to support service changes that go beyond the current comprehensive spending review period, which has so far defined the limits of the NHS efficiency programme.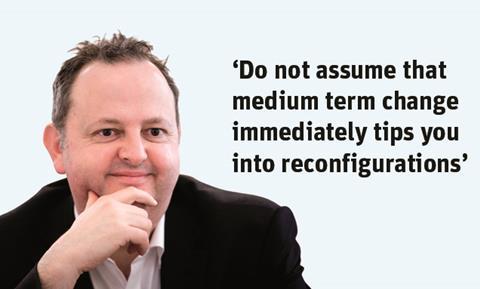 In an HSJ interview, Jim Easton (pictured), the board's transformation director, said the quality, innovation, productivity and prevention programme would not be scrapped or rebranded. He said improving quality and productivity was going to be "a dominant medium" in healthcare management beyond the current QIPP period, which ends in 2014-15.
Mr Easton said the board must "focus on medium-term change", referring to timescales that stretch beyond 2014-15. Mr Easton admitted it was not as easy to implement larger changes through the QIPP cycle as it was the shorter-term schemes seen in many local QIPP plans. However, "any medium-term challenge in balancing volume and quality and money is by definition a QIPP challenge," he added.
Mr Easton stressed that people should not assume that "driving some of the medium-term change in QIPP immediately tips you into significant reconfigurations around the country". He pointed to the move to using acute sites to provide more outpatient care over the past 15 years as evidence that profound service change could involve using existing sites in new ways rather than closing hospitals.
The board is in the transition process for taking over responsibility for QIPP, ahead of its full establishment as a statutory body in October. It is currently engaged in "plumbing the work into the new environment," Mr Easton said. The board's domain leads will drive QIPP themes such as long-term conditions, while the NHS Trust Development Authority, Monitor and the Care Quality Commission will all have roles providing assurance and support to providers.
Mr Easton also told HSJ that in future QIPP would become part of a "single planning round" undertaken by clinical commissioning groups.
"The key thing is that QIPP isn't some separate thing", he said. "There will be a single, locally led planning process… we'll be working to make sure QIPP works as part of that, not as some add-on."
Some "proper announcements" about how that will work will follow "as we get to the back end of the year", Mr Easton added. "We're trying to get the balance right - on short- and medium-term change in that planning process, about supporting local people around being able to account for it."