An effective psychological tool for mindset change would go further to counter the burden of disease than current government thinking, writes Hemant Patel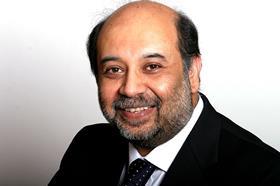 Imagine you notice a little hole in the ceiling. When you get in the loft to investigate the hole in the ceiling, you discover that there is a bigger hole in the roof.
Do you ignore the larger hole in the roof and just mend the little hole in the ceiling? No, you would not unless you are the government.
The burden of disease
Let me relate the above analogy to real life happenings. We know there is a demographic increase in population and associated with that, an increase in burden of inevitable and naturally occurring diseases (eg arthritis or dementia) and a preventable increase in burden of disease due to lifestyle (eg smoking or alcohol).
For example, unhealthy eating habits, physical inactivity, smoking, alcohol use, unsafe sex, driving habits and violence contributed to 48 per cent of deaths in the US in 2000. This figure does not account for harm or deaths due to use of prescribed medicines.
To manage the burden of naturally occurring diseases we need a certain clinical capacity in the care system
The NHS wastes at least £1bn – and possibly as much as £2.5bn – on preventable errors, many of which are related to improper use of medication, according to a report commissioned by the Department of Health. The government has just imposed cuts to public health budgets (£331m over next five years on top of £200m in-year cuts in 2015-16) which will have a major impact on PH commissioners.
To manage the burden of naturally occurring diseases we need a certain clinical capacity in the care system. It is right to increase that capacity proportionately as the population of the elderly increase.
Additional capacity is also needed to manage the diseases caused by poor choice of lifestyle by people. However, it is madness and costly to keep adding clinical capacity without considering effective and better ways to contain and reduce the burden of preventable diseases.
Need for behaviour change
McKinsey & Co, in their paper Changing Patient Behaviour: the next frontier in healthcare value say that "if health systems are to address the shifts in healthcare risk now taking place – especially those resulting from chronic conditions – they must find ways to get individuals to adopt healthier behaviours. New behaviour change programmes based on a person-focused, rather than disease-focused, paradigm are proving that it is possible to achieve strong, sustained results.
However, a change in mindset is required if these programmes are to gain widespread use
So, apart from ignoring clear evidence to link public health with the clinical services, the present policy of adding clinical capacity by increasing non-medical prescribers and practice in the same way as before needs to be questioned. Adding new prescribers who work in exactly the same way as the old prescribers (who do the clinical work, give information and provide education) is of limited value and only deals with the issue of retirement of the old doctors.
Mindset change at individual and population level is required
This type of situation where new clinicians with similar skill set are added tolerates, if not encourages, increasing flow of patients that is dependent on the care systems. There is no escape from the spiralling costs due to spiralling numbers.
The Five Year Forward View objectives will be undermined as no significant decrease in demand due to preventable diseases occurs. In fact, quite the opposite happens.
However, to stem the flow of patients a different approach is needed. Prevention strategies should be designed to
1) contain the number of people with exacerbation of diseases and
2) to reduce the number of new people developing diseases.
In both cases, mindset change at individual and population level is required. Smoking cessation, wearing of car seat belts, and alcohol education has taught us that mindset change does not come about by giving information about risks, diseases and educating people about the benefits.
Mindset change comes about by altering deeply and long held beliefs. Most people find changing one small belief extremely difficult, let alone a whole range of self-supporting beliefs based on negative pre-conditioning.
Psychological tool
What is needed is an exposure to a psychological tool – a tool for mindset change, that enables us to rapidly install new thought patterns, new beliefs, and positive mindsets, based on proven success models. The clinician with a psychological tool would be able to produce better clinical, personal, professional and financial outcomes than the clinician without.
So, adding psychological skills like the powerful coaching techniques into consultation process makes good sense and new clinicians should be taught these skills before they start practising. The current crop of clinicians too can learn coaching and change their consultation process to improve outcomes.
The current crop of clinicians too can learn coaching and change their consultation process to improve outcomes
At a time when the surgeries are overwhelmed with caseloads of long term condition patients who can benefit from a mindset and behaviour change, it would make sense to transfer stable long term condition patients to community pharmacists to support them using their clinical skills and newly acquired health coaching skills. But, will old dogs learn new tricks?
And, if they do actually commit to incorporating new health coaching skills into consultation process at what pace will they change and in what numbers? Recent experience in East London is that when health coaching training to improve consultation skills and improve outcomes has been made available to all professionals in health and social care, medics and nurses have generally been reluctant to take up the opportunities offered and yet pharmacists have enrolled in droves.
So, that suggests that there is appetite in community pharmacy for incorporating health coaching (psychological tools) into their clinical consultation skills. This insight might enable commissioners interested in promoting and supporting self-care to locate services into community pharmacies.
Hemant Patel, secretary, North-East London Local Pharmaceutical Committee