Swapping good practice is helping seven trusts to deliver cost and quality efficiency savings, write Lisa Hollins, Tim Guyler and colleagues.
Seven large trusts in England, which have approached the cost and quality agenda through implementation of trust-wide transformation campaigns, are sharing good practice and key lessons from their cost improvement programmes.
Starting with an initial meeting hosted by University College London Hospitals Foundation Trust, the organisations met in March this year to share challenges and to understand each other's approaches, successes and the lessons learned when changes had not been successful. They have subsequently progressed with monthly teleconferences on specific topic areas.
'Almost all large organisations now have developed a three- to five-year efficiency plan'
Here we look at the key themes from their approach and delivery of transformation programmes and major strands for savings.
The seven trusts sharing good practice on transformation campaigns are:
Nottingham University Hospitals Trust;
University Hospital Southampton Foundation Trust;
University College London Hospitals Foundation Trust;
Royal Free London Foundation Trust;
King's College Hospital Foundation Trust;
Oxford University Hospitals Trust;
Cambridge University Hospitals Foundation Trust.
Delivering successful programmes
The success of delivering efficiency programmes was attributed to the criteria shown opposite: leadership, programme management, measurement and skills development. This criteria supports year-on-year improvement, preparing the organisation for change and linking efficiency to other strategic initiatives within the organisation.
When trusts had reduced their efforts in the criteria, the organisations suffered a loss of momentum and lower overall levels of success. The criteria have also been cited in the Monitor/Audit Commission good practice guide Delivering Sustainable Cost Improvement Programmes.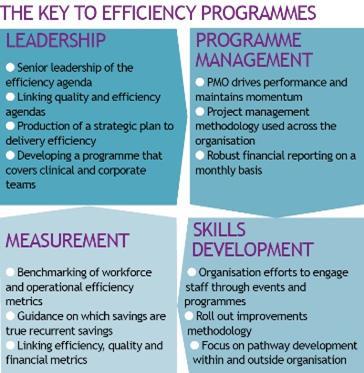 Efficiency gains
Across the trusts there were common areas for efficiency gains. These related to workforce, productivity in clinical services, procurement and corporate savings programmes. There were smaller areas in delivery in private patients' initiatives, asset management and commercial partnerships with other NHS or private sector organisations.
The size of the target within each efficiency theme related to previous levels of savings and expertise of individuals leading the programme. All initiatives require substantial skills in innovation, service delivery and ability to deliver change.
Almost all large organisations now have developed a three- to five-year efficiency plan, which outlines how the organisation will deliver its quality and efficiency agenda.
The largest strands are clinical services and workforce. However, there was greater variation in the corporate, procurement and commercial strands. This related to the expertise of the leaders of these strands and the trusts' aspirations on back office services.
Of the clinical services work, by far the biggest area was reducing length of stay and linking with community and primary care providers. Post-acute care enablement, an initiative where the hospital cares for the patient at home for the first three to five days after discharge (Royal Free); enhanced recovery (UCLH); and reducing internal waits (Nottingham) featured highly as methods of reducing readmissions or length of stay and improving patient care and experience.
Nationally, many trusts are putting additional focus on non-pay schemes that reduce capital and maintenance costs of equipment following growing costs in these areas. In-house or external managed equipment services need to be considered.
Within most large organisations there is a three-year procurement strategy and this should be considered, if not in place already. Oxford, in particular, had a well-developed programme on procurement, with a significant amount of expertise in its finance team.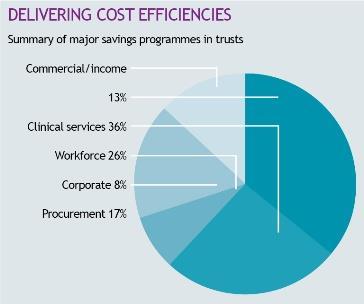 Significant work has been undertaken in analysis of utilisation in outpatients, theatres and diagnostics. Improving use of these care settings will reduce the unit cost of care for each patient. Cambridge University Hospitals had undertaken specific work in theatres and UCLH has developed its own version of productive outpatients, which is being shared nationally.
All approaches had predominantly focused heavily on engagement staff and patients, with trusts also keeping a focus on patient experience and quality as a fundamental part of the transformation programme. All trusts reported on how they were achieving this.
Analysis was highlighted as crucial in establishing future work and plans were usually drawn up following the analysis identified below:
workforce benchmarking;
productive activity analysis;
clinical benchmarking on LOS, new to follow-up ratios;
use of theatres, outpatient, diagnostic and ambulatory care settings;
financial analysis of the profitability of service lines and care settings to promote understanding of expenditure for our clinical services.
The information above informs the potential savings and programme of work within each efficiency strand. Annual benchmarking was combined with monthly efficiency metrics and robust reporting of financial metrics.
These metrics were routinely supplemented and informed by the views and experiences of staff and patients.
Robust financial reporting has been essential to identification and realisation of benefits. Reporting was most commonly undertaken through finance leads, acting as part of a multi- disciplinary improvement team.
There is substantial learning from trusts on how to build sustainable programmes that improve quality as well as efficiency. The approach needs to have clear strategic leadership and a plan for engagement and skills development across the organisation. Change needs to be supported by robust programme management, measurement and evaluation and staff and patient involvement. A large part of the transformation agenda concentrates on improving processes and this has a substantial benefit for quality as well as efficiency.
There are clear themes for efficiency across organisations. As well as the major themes of workforce and productive clinical services, strategic leadership of savings in corporate and support services are crucial.
As time moves on, more services are starting to look at the impact of specialist services reviews and developing integrated care solutions. These have the potential for both a positive as well as a negative impact on financial health of individual organisations but can generate significant savings across the whole health and social care system.
Lisa Hollins is deputy chief operating officer at Barts Health Trust and former acting director at University College London Hospitals Foundation Trust.
Tim Guyler is programme director, Better for You Whole Hospital Change Programme, at Nottingham University Hospitals Trust.
Katie Donlevy is director of integration, Royal Free London Foundation Trust.
Rachel Aitcheson is head of trust-wide programmes, UCLH.