Containing and reducing emergency hospital admissions is often seen as the holy grail of sustainable and better integrated healthcare. For most it has been elusive, but HSJ has identified and spoken to several areas which appear to have seen sustained reductions in recent years.
We looked for clinical commissioning group areas where there had been both steady decreases in total emergency admissions over two years, and reductions in their per capita rate over two years.
Some are likely to be down to changes to service provision, such as the downgrade of the emergency department at Stafford's scandal hit hospital, some could be data artifacts, and some are in atypical health economies.
However, some areas said they believed their improvement was down to changes in healthcare, in particular identifying improving care hope support, and "virtual ward" interventions.
Fifteen CCGs with reductions in per capita emergency admissions and steady reductions over two years
| CCG | Per capita % change 2014-15 to 2016-17 | Median monthly year on year growth rate in total emergency admissions, over two years |
| --- | --- | --- |
| Blackburn with Darwen | -6.5% | -2.2% |
| Cannock Chase | -7.2% | -4.4% |
| Eastbourne, Hailsham and Seaford | -6% | -1.9% |
| Hillingdon | -13.3% | -5% |
| Newham | -7.5% | -3.6% |
| Oldham | -10.8% | -2.2% |
| Redbridge | -9.9% | -4% |
| Salford | -12.4% | -5.2% |
| Sheffield | -12.3% | -3.8% |
| Southport and Formby | -19% | -6.9% |
| Stafford and Surrounds | -6.4% | -2.5% |
| Waltham Forest | -16.5% | -6.7% |
| West Essex | -14.3% | -6.3% |
| West London | -9.7% | -2.1% |
| Wolverhampton | -6.8% | -5.3% |
This chart shows how these CCGs' per capita rate of emergency admissions have changed from 2014-15 to 2015-16 then 2016-17 – compared to the England total (England total line in red):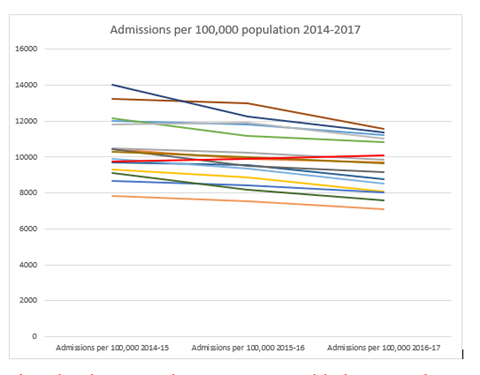 This chart gives a picture of the trend in total monthly emergency admissions in these areas, again compared to the England total (England total line in red), indexed at 100 in April 2014: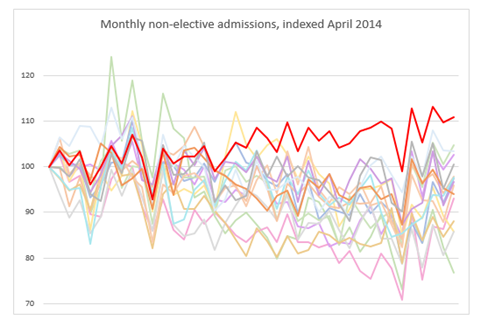 HSJ spoke to NHS organisations in several of the areas. A number said their improvement could be linked to introducing community rapid response teams, in which nurses and/or GPs respond to acutely ill patients in their homes; and to projects focussed on reducing admissions from care homes.
Three of the 15 CCGs identified in the analysis were in north east London – Redbridge, Newham and Waltham Forest.
Waltham Forest
Waltham Forest saw a per capita reduction of more than 16 per cent over the two years, according to the analysis. Waltham Forest CCG chief officer Terry Huff said it had a number of projects specifically focussed on avoiding admissions from care homes and in the frail and elderly.
He said its care home support service had led to a halving of ambulance transfers from homes.
Sheffield
Nicki Doherty, director of care outside of hospital for Sheffield CCG, said: "The consistent reduction in non-elective admissions over recent years has been the result of a successful partnership between all of the NHS organisations in Sheffield to deliver a collective vision which seeks to provide as much care as possible in the community."
Sheffield Teaching Hospitals Foundation Trust deputy chief Kirsten Major added: "As a large provider of community and acute healthcare we have been able to integrate care pathways and introduce new ways of working which has enabled more care to be provided in an appropriate community setting or on an ambulatory basis.
"As a result we have seen a consistent reduction in non-emergency admissions over recent years… Examples include a virtual ward led by GPs and community nursing teams, front door response teams in accident and emergency and the development of frailty units."
Wolverhampton
Steve Marshall from Wolverhampton CCG said: "One of the major contributors is that the trust has put in a new model of A&E that we call the physician A model.
"Rather than people simply attending an A&E, seeing an A&E consultant and then after four hours being referred to an actual physician, the physician is working alongside the consultants [in A&E].
"One thing alongside that, what we've done is a great deal of work in community and primary care. We have a home in reach team, looking at residential homes and care homes; staffed by an [advanced nurse practitioner] and a geriatrician. They do residential home visits.
"We also have a primary care in reach team, each care home will have GP ward rounds every week."
Blackburn with Darwen
The deputy chief officer for Blackburn with Darwen CCG told HSJ it had recognised "a few years ago we were an outlier in non-elective admissions".
It had worked on "primary care engagement" and "there [are] a number of schemes we've had in for a number of years that we believe really have made some traction".
He said the areas had an acute visiting service for people at risk of admission, which makes about 5,000 visits a year. It also introduced an "intensive home support service" two years ago, which he said had "seen some really good results".
We examined monthly hospital activity data published by NHS England for general and acute non-elective admissions.
Updated to include data definition and link to the source data, NHS England hospital activity returns.
Corrected: Vanguard areas saw fall in GP referral rate last year, analysis shows
1

2

Currently reading

Analysis: The areas seeing sustained falls in emergency admissions