NHS England's primary care co-commissioning plan could help ease pressure on accident and emergency services, a researcher behind a new College of Emergency Medicine study has claimed.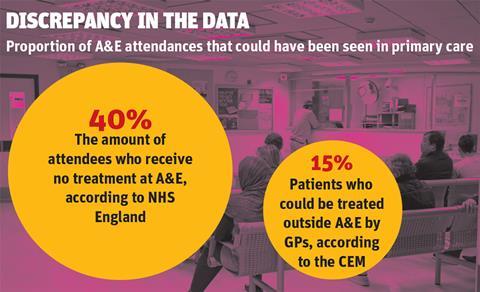 Discrepancy in the data
The analysis of A&E attendances over a 24 hour period in 12 hospitals found that one in four patients could have been seen by GPs based in emergency departments with access to tests, such as X-ray imaging.
Carried out by the college and healthcare consultancy Candesic, it appears to challenge a key NHS England claim that far more A&E attendees – 40 per cent – could have been treated outside of an emergency department.
Only 15 per cent of cases examined in the College of Emergency Medicine's research could have been helped by GPs working outside of a hospital.
Although this proportion rose to 53 per cent for patients under 16, it fell to 14 per cent for older people.
Clifford Mann, president of the College of Emergency Medicine, said the analysis challenged the NHS England figures. "Theis data collected by frontline clinicians refutes the secondary data often quoted," he added.
"Decisions on service location and configuration must be based on reliable information if we are to deliver appropriate services.
Report co-author Michelle Tempest said the research also contradicted well rehearsed claims that older patients clog up hospital with "inappropriate admisions".
"This data flies in the face of that vogue", she added. "It seems that older people are in fact pretty stoical and only attend hospital when it is an emergency."
Dr Tempest said the placement of GPs in emergency departments to help ease congestion on mainstream A&Es could be made easier with the primary care co-commissioning arrangement proposed by the new NHS England chief executive.
"I see an opportunity here with Simon Stevens at the helm of the NHS," she told HSJ.
"This [co-comissioning] may help emergency departments develop a service that encompasses primary and secondary care under one umbrella, rather than the current silo system where there have been arguments about who should fund a GP within the A&E."
Professor Jonathan Benger, NHS England's national clinical director for urgent care, disagreed that the research clashed with its own.
"There have been several attempts to quantify the percentage of A&E attendances that could be readily managed elsewhere, with estimates ranging between 10 and 45 per cent," he added.
"This new figure from the College of Emergency Medicine therefore falls within the expected range."
NHS England's Urgent and Emergency Care Review recognised the value of co-locating urgent care centres with A&E departments.
These allow general practitioners and other primary care staff to work in coordination with casualty departments.
The findings also suggest that an additional 26 per cent of A&E attendances could be seen by a GP in an emergency department with access to procedures such as imaging.
The analysis looked at patient attendance information from 12 hospitals over 24 hours in March. The data came from a range of hospitals across the country with mixed performance against the target to see, treat, admit or discharge a patient within four hours. Emergency department consultants looked at every attendance and assessed the type of treatment each patient required.