The action by junior doctors has revealed new strategies for tackling the war against variation in the NHS, write Rama Vancheeswaran and colleagues
The provision of uniform seven-day services is intended to eliminate variations in mortality and in Emergency service provision between weekday and weekend.
This is the current Adult Emergency Care Standard provided by NHS England. The stalled contract negotiations aimed at increasing the weekend presence of junior doctors has led to significant resistance to change, however, because of concerns about quality of training, work/life balance, and family well-being, particularly in a workforce with a relatively high female to male ratio.
The reduction of payments for anti-social working hours for junior doctors has further polarised the relationship between the Department of Health and the junior doctors.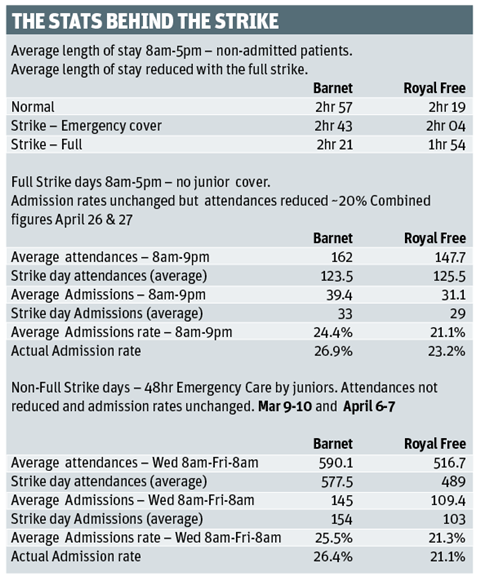 The experience of the junior doctors strike and full walkout revealed another possible solution to the current impasse which might be more likely to deliver what is desired.
Seven-day solution
It was anticipated that London would experience a major failure of services during the two full walk-out days, based on a significant reduction of work force numbers.
The opposite happened, however; adherence to four hour targets actually improved across London, with fewer breaches, lower usage of diagnostic requests and a quieter front end (see tables for our trust target measurements compared with annual data).
Admittedly there were ~20 per cent fewer attendances in London but admission rates were unchanged. This suggests that the sick (higher casemix) patient load was not affected by the strike. The main effect was on urgent care attendees.
There was no consequential increase in Thursday, Friday or weekend attendances or admissions. This implies that 20 per cent of patients were able to manage their conditions without the inappropriate use of A&E. It also suggests that altered strategies in front-of-house resources and other community health providers for minor ailments (GPs) might be an effective part of the seven-day solution.
One suggestion could be costs to be rebased to primary care instead of the inflated rates currently paid eg GPs in Urgent Care centres are currently paid in excess of 250 per cent times normal rates of a salaried GP. Charges for inappropriate use of A&E might also be considered to reduce this unnecessary demand.
Overstretched juniors
At Barnet Hospital, the use of five medical consultants in cardiology, respiratory, neurology, geriatrics and rheumatology from the start of the patient pathway reduced the number of diagnostic referrals and breach times.
This suggests that overall staffing requirements could be reduced by deploying experienced decision makers earlier in the pathway, as opposed to delegating solely to junior doctors until later in the process.
A review of service provision by senior decision makers might lead to a significant contribution to the seven-day uniform standard without the use of trainees. Neurology and some other specialties currently do not provide support for the weekend. If this were negotiated into the consultant contract it would enable more effective decision making leading to a reduction in overall resource requirements and less reliance on the overstretched juniors.
A seven-day NHS is a good initiative that would drive quality within the NHS. The use of trainees alone to achieve it, however, is not supported by our experience of the two-day walk-out. The exodus of trainees to other countries caused by reduction in training times, threats to remuneration and loss of work/life balance is a threat to the NHS's future.
The authors of this article suggest that a win-win outcome is more likely to be found by deployment of appropriately skilled consultants at the front door and strategies to reduce trivial A&E attendance. To maximise consultant potential, support such as healthcare and physician assistants will make decision making more efficient.
The full strike has provided an insight into new models of working. It is clear that senior decision makers and reduced urgent care demand are key to the future of a cohesive NHS.
Rama Vancheeswaran is consultant respiratory physician, Turan Husein consultant and clinical director, emergency department, Caroline Allum is consultant radiologist, and Naina McCann is senior house officer, all at the Royal Free Foundation Trust, London.
Trust to trial continued use of strike A&E model
1

2

Currently reading

Unexpected insights on variation from the doctors' strike