The Beatles and Beyoncé rock up in a public health report, while we question whether David Beckham being born at Whipps Cross counts as nominative determinism
End Game recognises that health and social care organisations need to come up with eye catching slogans to grab patients' attention. Public health departments perhaps have it harder than most.
'We're not quite sure how the Fab Four, the world's biggest pop star and tuberculosis are linked'
However, Andrew Howe, public health director for Barnet and Harrow councils, perhaps tried a wee bit too hard to be down with the kids when he called his recent annual report From the Beatles to Beyoncé: Five Decades of Change in Public Health.
We're not quite sure how the Fab Four, the world's biggest pop star and tuberculosis are linked, but you've got to hand it to Mr Howe; at least he's trying to bring some flair to the prevention agenda.
Bend for Beckham
As regular readers will know, End Game can't resist a good (or bad) bit of nominative determinism. Past contributions have neglected the acute sector, however.
So we were intrigued when James Maw, features editor at footballing bible FourFourTwo, tweeted: "Never noticed this before, but does David Beckham being born at Whipps Cross Hospital count as nominative determinism?"
While we can only admire Mr Maw's enterprising, expansionist spirit in the "nom-det" stakes, his observation perhaps suggests it's the north east London hospital, more than the former England captain, which did the determining.
If only record breaking Olympic swimmer Rebecca Adlington had been born at Poole Hospital.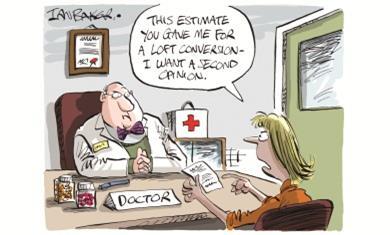 Beyond the call of duty
GPs have had a tough time of it lately with rising demand causing long queues at surgeries, placing extra strain on primary care.
Our sympathy goes out to practitioners faced with patients asking for advice on health issues which stretch their job description and patience; such as the doting parent who asked for help monitoring the health of their son's "yin and yang".
This and other worrying cases appear on the website of Resilient GP, an organisation supporting doctors to prevent burnout and promote effective working practices.
Other curios from the list of inappropriate demands to GPs, compiled via an anonymous doctor survey, include:
"My iPhone camera makes my face look wonky;
"I'm allergic to avocados, if I eat eight I'm sick;
"I would like a referral for my daughter to become a doctor"; and
"Doctor, can you 'make' me diabetic [on my records] so that I can qualify for free Viagra."
Pharmacists being deployed to take pressure off GPs in some regions have this to look forward to.
Patients of a saint
In Medieval times, pilgrims would trek hundreds of miles across England to visit the shrines associated with popular saints.
Some of these shrines would hold sacred relics for the pilgrims to venerate – St Thomas Becket's finger bone, perhaps, or the pectoral cross of St Cuthbert.
It is a longstanding cliché that in our secular age, the NHS is the closest thing in this country to a national religion. It certainly has its own saints, but apparently its own pilgrims and relics too.
'The NHS is the closest thing in this country to a national religion'
Stalwart anti-privatisation campaigner Clive Peedell posted a photo on Twitter last month as he set off on a bike tour of Witney, where he is the NHS Action Party's candidate trying to unseat the prime minister at the general election.
The cycling pilgrim posed with a relic of the greatest NHS saint of all: the watch of St Nye Bevan of Tredegar no less.
Pilgrim Clive will have been heartened that his party has received the support of rock legend Brian May in its bid to oust health secretary Jeremy Hunt in South West Surrey.
We can guess what song will be going round Clive's head when he embarks on the next stage of the Tour de Witney: "I want to ride my bicycle…"