The regulator's new digs leave End Game a tad colour blind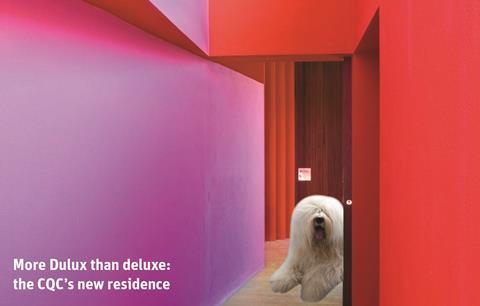 We paid a visit to the Care Quality Commission's new digs in Victoria recently.
Perhaps they're getting a better deal for the taxpayer on the rent, but it's a worse deal for End Game. They used to be a gentle five minute stroll from HSJ Towers; now we need to schlep across town on the tube.
That gripe aside, we're pleased to report that the new place is pleasant enough. Each part of the office is decked out in a different colour, with the dominant hue used to identify the meeting rooms in that area.
'We'd segued from a Dulux advert into a scene from BBC satire W1A'
End Game was led through "Maroon" on our way to a meeting in "Magenta". For one moment we thought we'd wandered into a Dulux advert. The good folk of the CQC are still clearly not yet attuned to the colour coding - it took us a couple of minutes to get our bearings and track down our meeting room.
At one point, one of End Game's chaperones stopped, pointed to the wall and asked: "Is this Magenta?"
"Hmm, 'Cyan' I think," his colleague replied.
We'd segued from a Dulux advert into a scene from BBC satire W1A.
Lansley landslide
Andrew Lansley spent much of 2010, 2011 and 2012 being called all sorts of things, thanks to his unloved-at-the-time-and-now-for-the-most-part-happily-forgotten white paper, which in spite of its content and the controversy it provoked, ended up becoming the Health Act.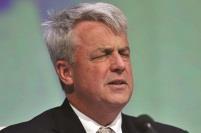 Mr Lansley's response was one of impatience at what he thought was his critics' intellectual sloth, rather than being hurt by the extreme criticism and personal abuse he faced. But five years after the nightmare - sorry, reforms - began, he finally cracked.
Piqued by a characteristically impudent piece by blogger and HSJ comment editor Andy Cowper, Mr Lansley tweeted: "When you're not issuing childish abuse, do you think NHS E should be independent; if so, why not offer credit?"
Cowper responded by suggesting Simon Stevens might be ignoring and undermining Mr Lansley's elegant architecture, for instance, by collapsing the on-the-face-of-it-all important purchaser-provider split. But the former health secretary was having none of it.
'We were worried that our own hard-won understanding of the Lansley system was becoming obsolete'
He responded: "No he isn't; he's using the architecture, as it was intended, to speak for the NHS and develop it's [sic] own solutions".
Phew! Like Mr Cowper, we were worried that our own hard-won understanding of the Lansley system - seriously, we invested years in getting our heads around it - was becoming increasingly obsolete.
So, just to clarify, the Lansley doctrine is now - and always has been, of course - that his system is working brilliantly because commissioners have elected to decommission commissioning on the grounds that commissioning is sometimes not the best thing to do and, furthermore, that this serves to prove the point about what a good idea commissioning was all along.
End Game is happy to attribute full credit for this state of affairs to Mr Lansley.