End Game brings to you the serious nature of herbal products and a dash of pop 
A new year but some things never change. As the minister for community and social care, Alistair Burt fielded questions in the House of Commons last week, facing a grilling about end of life care and social care funding.
But, true to form, alternative medicine enthusiast David Tredinnick MP got the third question in, asking if the minister would "look very carefully at dispensing arrangements for the small-scale assembly of herbal products, something the government of the People's Republic of China are very interested in?"
Mr Burt avoided committing himself to looking "very carefully" or at all, and replied that herbal products were beyond his normal portfolio remit. He deftly combined cattiness and politeness by adding: "I am sure in many local areas they are taken extremely seriously."
A touch of pop
End Game would like to extend a warm welcome to Peter Wyman, who has just begun his tenure as chair of the Care Quality Commission.
End Game has to admit that on first hearing the news of his appointment, we were a trifle disappointed. Not because we have any reason to doubt Mr Wyman's competence or integrity, but readers must remember his predecessor. Lord Prior has left huge, possibly clown-sized, shoes to fill.
End Game was despairing because we feared Mr Wyman, an accountant of 40 years' standing, would never provide so many column inches for this humble page as the "outspoken" government minister.
Peter got more press than Kylie's bottom
Perhaps our fears were misplaced? While we were doing our homework on the new chair, End Game stumbled across a Telegraph City diary column, bidding farewell to Mr Wyman when he left PwC in 2010.
Mr Wyman was a big deal in the accountancy world, shepherding the profession through the Enron scandal while head of the Institute of Chartered Accountants. When he stood down from the body, a colleague reportedly remarked: "I could only hear from him by turning on the radio. Peter got more press than Kylie's bottom."
Double-entry book keeping and Kylie Minogue – who knew accountancy could be so exciting? We hope Mr Wyman can bring some of the popstar's razzmatazz to the CQC.
The problem with mergers
Last year, the King's Fund published a report examining the problems encountered by trusts deciding to merge.
This generated some thoughtful comments below the line, including a no-nonsense contribution End Game recently spotted from Paul Thackray, a former governor at Dorset Healthcare Trust. Mr Thackray proclaimed that mergers were often a recipe for failure because there is "rarely" the management capability to properly manage such mammoth undertakings.
"The problems of the smaller organisation are usually duplicated and magnified in the enlarged body," he observed. When would the NHS ever learn, Mr Thackray snorted, that ego was not a substitute for competence? His words would have packed a bit more punch had he not spelt it "competance".
In Pooland again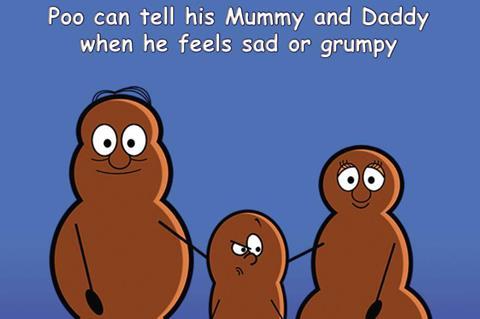 End Game readers may remember that last year we highlighted the work of staff at Northumberland, Tyne and Wear Foundation Trust, which created Poo Goes Home to Pooland, a phone app designed to help children with constipation.
We wouldn't want to be the poor trust staffer receiving samples
The app, whose scatological lead character is the imaginatively named Poo, has apparently been a roaring success. A trust press release trumpets the fact that the app has been downloaded "thousands of times" and nominated for an award.
You'll hear no smirking from End Game – anything to help children in distress is fine by us.
However, we only cautiously welcome the trust's request for feedback on its digital creation, as we wouldn't want to be the poor trust staffer receiving samples.
Workaholic disposition
Jim Mackey has won support with his realistic and empathetic approach to overseeing provider trusts since taking up his post at Monitor, as it developed into NHS Improvement, two months ago.
But that's not going to stop him acting like a workaholic with a penchant for intensive planning, though, it seems.
Foundation trusts received requests on 23 December for more planning data to be submitted than ever ahead of 2016-17, and a deadline giving them less than 30 working days to complete it.
You have our belated festive greetings, Mr Mackey.
Looky-likey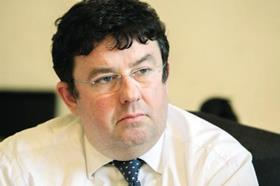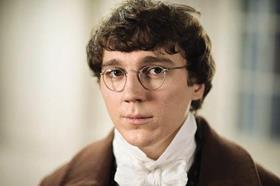 "If everyone fought for their own convictions there would be no war," wrote Leo Tolstoy in War and Peace, clearly never having witnessed a health service tariff revolution.
We can know only that we know nothing, and that is the highest degree of human wisdom
A man who has is NHS Providers chief executive Chris Hopson, who according to one HSJ reader is very similar in appearance to Count Bezukhov (played by American actor Paul Dano) in the BBC's current adaptation of the Russian epic.
End Game defers to Tolstoy on the matter: "We can know only that we know nothing, and that is the highest degree of human wisdom."