Ronald Reagan makes his way into Hunt's speech and one CCG gets a standing ovation for using rubber ducks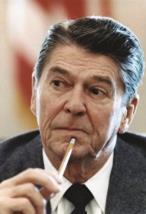 Jeremy Hunt gave a speech last month that End Game imagines would have come as music to the ears of assembled GPs.
In a rare outbreak of honest reflection, the health secretary said: "Reforms, always well intentioned at the time, have often had perverse and unintended consequences."
The health secretary then proceeded to quote the late US president Ronald Reagan: "Governments tend not to solve problems, only to rearrange them," before going on to cite a string of past policy missteps.
'Governments tend not to solve problems, only to rearrange them'
Funnily enough most of the reforms he listed took place under Labour governments. For example, the 2004 GP contract "undermined the personal relationship with patients", while the quality and outcomes framework too often "ended up as a tick-box process".
A more recent overhaul spearheaded by the right honourable member's immediate predecessor was, oddly, absent from the list.
In vogue
Rebranding is in vogue in the health service at the moment.
Who could feel uneasy about top-down intervention in struggling health economies when it's given a name as pregnant with promise as the "success regime"?
Now it seems a historically troubled hospital in the West Midlands may be about to follow suit.
End Game read with great interest that a campaign is gathering momentum to rename Good Hope Hospital, which is part of Heart of England Foundation Trust, as "Royal Sutton Coldfield Hospital".
'If you've got it, flaunt it'
The local press has reported that the Conservative MP Andrew Mitchell has thrown his weight behind the idea, claiming the renaming would be "an important recognition of the role that the hospital has in our town".
There has been a long tradition of ribbing the hospital by dubbing it "No Hope", "Bad Hope" or even "Abandon All Hope", which rankles local supporters.
Sutton Coldfield is also one of only 11 towns in England that are allowed to use the "royal" prefix, an honour bestowed upon it by Henry VIII.
If you've got it, flaunt it, End Game says. Besides, with that sprinkling of royal stardust, we're sure the Care Quality Commission will bump the hospital's rating up from a plebeian "requires improvement" to a more regal "outstanding" the next time it is in town.
Self-explanatory
Regular HSJ readers will have followed the various complexities of the 2015-16 tariff arrangements with great interest.
With so many moving parts in the tariff, NHS number crunchers would be forgiven for needing to take a little time to understand certain pricing arrangements.
End Game's heart therefore goes out to the poor finance director who got in touch with pricing watchdog Monitor to ask why hospitals received more cash for pulling out one patient's tooth than for extracting an entire set of gnashers.
Monitor's reply reads: "The reason for this is that the 2013-14 payment by results method had a rule which meant that the OP price for CZ30Y should be similar across OP, DC and EL.
"This meant that if the rule was not in place there would be higher DC/EL price for CZ30Y. Without the rule, the price for CZ30Y would likely be lower than CZ42Y. Please note there was no such rule applied to CZ42Y."
Well, that totally explains it.
Rubber duck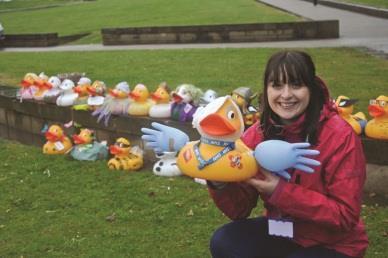 End Game is always keen to applaud NHS organisations that are innovative in engaging with patients and pointing them in the right direction for care.
This week we doff our hats to one clinical commissioning group that has really pushed the boat out in its efforts. A whizzy social media campaign? A witty YouTube video?
No, nothing quite so derivative: a standing ovation please for Southern Derbyshire CCG's rubber ducks!
'Bob the Duck beats a boring old email or leaflet in the post any day'
The CCG is taking part in this year's wonderfully named Ey Up Mi Duck Race, organised by the Sight Support Derbyshire charity, with its own contender - Bob the Duck (see picture below) - in a noble effort to promote the Derby Urgent Care Centre.
Smaller "info ducks" are being given to residents with details about the centre's service printed on them. Beats a boring old email or leaflet in the post any day of the week.