Our pedigree chums at the Department of Health have a can-do approach, but their mealy mouthed missives aren't easy to digest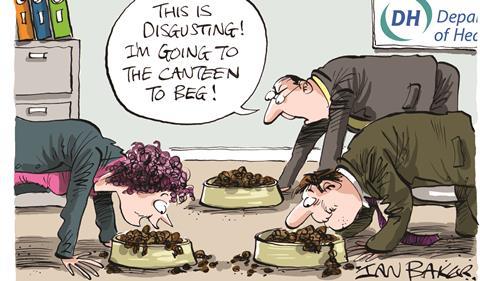 While End Game is all for transparency in government, there are some things we believe really shouldn't be shared, like the dietary habits of Department of Health mandarins.
Therefore, one DH email force fed into our inbox last week left us positively queasy. "As a team we like to eat our own dog food" was its unpalatable opener.
Scratching our heads for a sensible explanation, we recalled how a pack of dogs had been taken walkies in Richmond House recently to provide "pet therapy" for stressed out officials. Had the therapy got out hand? Was this some kind of canine transference?
Happily not. Unbeknown to us, "eating your own dog food" is in fact modern internet slang for an organisation that uses its own products to demonstrate their quality. Suggesting your officials have begun chomping on pet food is certainly a way to get our attention. Keep up the good work, DH.
Perhaps the Cabinet Office will now send out press releases suggesting it has begun munching on dog chews to tell us that government spending has been stripped to the bone.
Grimsby lanced
In the 21st century's cutthroat, globalised marketplace even the most prestigious NHS organisations can struggle to attract top talent.
'Why the hell would they come to Grimsby? We ask that question every week'
Spare a thought then for Lance Gardner, chief executive of the Care Plus Group – an NHS spin out community benefit company based in much maligned Grimsby. He told a recent HSJ roundtable event about his struggles to get candidates for jobs to come and work in the town.
"Why the hell would they come to Grimsby?" he asked fellow panellists. "We ask that question every week." The situation is made more difficult because Grimsby no longer has its own nurse training school. Mr Gardner cited how one applicant had texted en route to an interview: "Just driven into Grimsby and I'm going to keep driving."
But the area is trying to turn things around with a plan based on the football club model of spotting talented people at a young age who might want to work in health, and training them while they are still at school. End Game salutes this idea, which could create a new generation of loyal NHS staffers. However, Grimsby Town might not be the best football club to use as a template. The Mariners actually play their home games in Cleethorpes.
Child on the NHS fast-track
When a 10-year-old girl from Cumbria wrote to the prime minister imploring him to save her local hospital, it created quite a buzz on social media and was even picked up by national news organisations.
Maddy Snell sent her letter – written in blue ink and on lined paper – to Downing Street to protest the possible loss of services at West Cumberland Hospital.
The letter is a fine example of civic engagement among the younger generation - although, End Game merely observes that Maddy's mother, who posted the letter on Twitter with the hashtag #AnswerMaddy, just happens to be a leading figure in the campaign to keep services at the hospital.
Still the reaction to the intervention got us thinking: if Andrew Lansley had found a winsome child to write a staunch defence of the Health and Social Care Act, perhaps things could have turned out very differently.
Boris bosses the park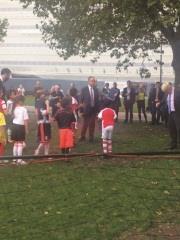 On first glance you'd be forgiven for mistaking this shot (left) of the much revered Lord Darzi as a painfully awkward example of someone struggling to get stuck in to a friendly game of footy with an enthusiastic bunch of kids. However, that is until you spot Boris Johnson lurking in the corner, having just knocked over a small child with an apparently dirty tackle.
Part of the London Health Commission report is about protecting children in parks from adults' damaging behaviour. Unsurprising then that BoJo seemed a little sceptical about those recommendations.