MP tells Simon Stevens alternative medicine is not to be sneezed at, but the NHS England chief opts for aspirin over echinacea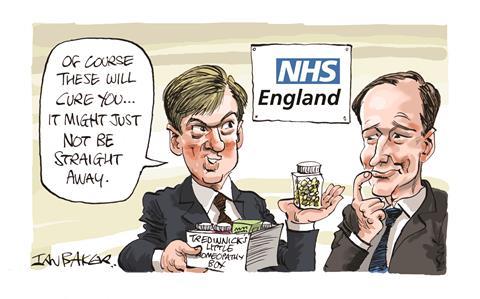 A Commons health committee hearing can always rely on one thing: MP David Tredinnick extolling the virtues of alternative medicine. While quizzing senior bods from NHS England last week about plans for the future, the MP for Bosworth could not help himself. Again.
'While you give an example of going to your homeopathy box, others might equally visit a chemist and take aspirin'
After namedropping his favourite homeopathic hospitals, the MP then pressed NHS England chief executive Simon Stevens on whether he would "please" go and visit them. It looked as if every fibre of Mr Stevens' being was fully engaged in preventing his broad smile from widening further. With steely diplomacy, he replied: "At some point I would be delighted to visit - it might just not be very immediately."
Mr Stevens added that, while he could see merit in some of the therapies cited, "there's more debate about certain interventions at the other end of the spectrum".
Unfazed, Mr Tredinnick continued. "If I have a cold or some kind of respiratory issue I will always go to my little homeopathic box and try and use that first," he said.
Sir Bruce Keogh, NHS England medical director beamed back: "While you give an example of going to your homeopathy box in order to avoid a GP visit for your cold, others might equally visit a chemist and take aspirin."
Yes, that's an option too.​
Hacked off
Surrey Heath Clinical Commissioning Group's website was hacked last week by a scurrilous geek with a frightful moniker: Warrior of Indian Mad Hunters. Is this incontrovertible proof that commissioning has made it into the big time? Forget MasterCard and Amazon, CCGs are in the sights of the anti-establishment.
End Game was certainly spooked by the skull and Indian flag, which flashed up with a blast of battle music, when hoping only to savour the CCG's latest goss on QIPP initiatives.
While hoping the hackers didn't do any damage, we can't help but speculate on what made the website a target. Having spent hours upon hours clicking through reams of irrelevant info before happening across anything useful, we wouldn't be surprised if the attack was borne of frustration.
Monitor logs in for lols
As a champion of openness, End Game was delighted to learn Monitor has decided to allow a select number of employees to tweet on its behalf.
'Monitor is not an organisation famed for a free and easy attitude'
We can't wait to see the "trusted tweeters" on the Twittersphere, preaching the good news that, yes, competition regulation is incredibly straightforward and, no, you don't have anything to worry about when filing your monthly finance reports.
However, Monitor is not an organisation famed for a free and easy attitude, and the decision to take the social media plunge was not made lightly.
According to its board papers, time at an executive committee meeting was dedicated to "consideration of the benefits, risks and mitigations".
Trust the Monitor squares to turn Twitter's lightness and spontaneity into a yawn-worthy business process.
Having a pop at the numbers
End Game was relieved to learn from the government that the better care fund would definitely save £500m, and commends everyone involved for having completed the hard work of producing a detailed plan. Its implementation will surely be a doddle, so now we can all just sit back and watch the savings mount up.
So it was with some excitement that we logged onto Twitter to see what questions the health and social care world had for the innovative Andrew Ridley, who is widely credited with saving the policy's credibility by forcing participants to run the numbers to build some actual maths into their savings calculations.
He was speaking at a live event, but attendees could submit questions via the Twitter hashtag #askBCF.
Jolly Dee! Problem was, some others had already used the hashtag for something else. @BriaAndChrissy fans – for fans of lesbian pop duo Bria and Chrissy – used the same term for an online chat about their idols.
End Game wasn't in the room so doesn't know Mr Ridley's thoughts on the popstrels or whether he agreed to design an onerous assurance scheme for their fans. We bet he could though.