No one likes train toilets, particularly Jeremy Hunt after he pulled the wrong cord by mistake on his way to the Tory party conference…
No one likes train toilets. End Game especially hates the ones that you have to open and lock by pressing buttons (we can never quite shake the fear that the door will slide open agonisingly slowly at any moment).
Our anxiety must be shared by Jeremy Hunt.
According to newspaper reports, passengers on a Virgin train en route to the Conservative Party conference in Manchester last week were startled by an announcement informing them that someone had pulled the emergency cord in the loo.
'Mr Hunt admitted he pulled the cord by mistake'
Reports said a red-faced Mr Hunt emerged from the toilet, admitting he'd pulled the cord by mistake.
An easy mishap to make, especially for those, like End Game, who are accustomed to the reassuringly vintage feel of old fashioned chain pull loos.
The papers that reported the incident included a quote from an unnamed passenger, which is surely too good not to be true.
With Mr Hunt still locking horns with the British Medical Association over the junior doctors contract, the eyewitness acidly commented: "It's a good job he didn't actually need a doctor. I'm not sure anyone would have volunteered."
Accidental faux pas
Things didn't get much better for our hero once he arrived in Manchester.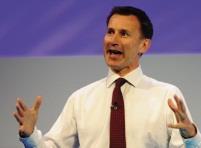 First, he made the evening news last week after having to be protected from a baying crowd of protesters as he tried to enter the conference. The health secretary seemed to take it OK – joking that he was no longer "the most interesting Jeremy in politics" and blaming the presence of the protesters on the arrival of Mr Corbyn.
Then, the next day, Mr Hunt once again made headlines – this time for accidentally saying poor people need to work harder and that Britons should be more like Chinese people. At least no one in the NHS is angry with Mr Hunt. Oh…
When laughter induced labour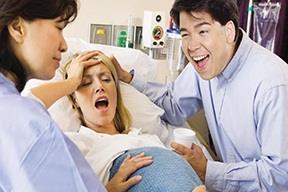 NHS England and Baroness Cumberlege announced last month that they were gathering evidence from the public for their review of maternity services.
Naturally, End Game is keen to fulfil its civic duty and proposes box office comedian Michael McIntyre be appointed the NHS's "induction tsar". This is in light of reports last week of an Essex lady who laughed so hard while watching his London O2 Arena show that her waters broke six weeks early.
The new mum is convinced the early birth was brought on by a routine about doping kids up with Calpol and Nurofen, according to a report on comedy website Chortle.
'Imagine a world where Michael's powers of mirth were used as a force for good'
Premature births are obviously no laughing matter and fortunately she was able to get safely to Colchester Hospital, where she gave birth to a healthy baby girl. Congrats all round.
But imagine for a moment a world where Michael's powers of mirth were used as a force for good – a world where his apparently hilarious gags were used to help induce mums-to-be who were well past their due date, thus avoiding the need for induction hormones, and all that caper.
Mr McIntyre, who supports various charitable causes, would doubtless jump at the chance to do some pro bono work for the NHS, as well as giving something back to the many fans who have helped him buy a jolly snazzy Ferrari.
End Game concedes that a potential fly in the ointment could be that some people find Mr McIntyre's brand of populist comedy unamusing, but perhaps the NHS could extend choice for patients by assembling a roster of comics.
The name speaks for itself
A recent trawl through Five Boroughs Partnership Foundation Trust's board papers gave End Game a blessed opportunity to bang its "nominative determinism" gong once again.
Has the career destiny of Five Boroughs' finance director been influenced by her moniker? In the case of Sam Proffitt, surely it has.
'There seems to be some scope for efficiency in Ms Proffitt's surname'
True to her name, under Ms Proffitt's stewardship, the trust is currently forecasting a surplus for this year.
However, in these financially straitened times, economies need to be made, even at the best performing providers.
And there seems to be some scope for efficiency in Ms Proffitt's surname: as is the case in many health economies, there's an "FT" too many.