What the new recruits can do for the Department of Health, and Lamb gets backing from an unlikely source.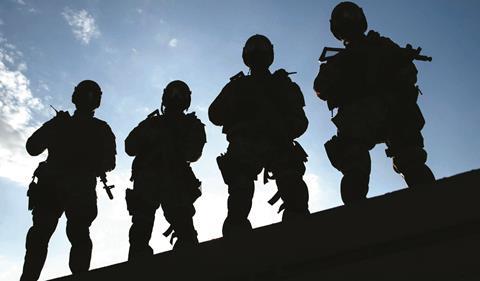 The other sort of SWAT team
End Game has been swotting up on the new Conservative ministers parachuted into the Department of Health.
There's this David Prior chap, whose taking the ermine to become a minister in the Lords. No, we've never heard of him either. Must be a reserved, uncontroversial, "no rocking the boat" sort of guy.
'Gummer is a useful guy to have in the DH if there's a terrifying pandemic on its way'
We didn't know a huge amount about Alistair Burt, who becomes minister for community and social care. That was until he started nattering about sunscreen, his wife and his travels as a minister in the 1990s. This was while he was being sworn in as an MP last week, apparently unaware that the House of Commons mics were on. Thanks for sharing, Alistair.
Finally there's Ben Gummer, who we learned is the author of the book The Scourging Angel. End Game's first guess was that it was a Margaret Thatcher biography, but apparently it's a tome on the Black Death. A useful guy to have in the department if there's a terrifying pandemic on its way.
What SWAT?
When End Game received a press release from South Warwickshire Foundation Trust celebrating the tenth anniversary of their SWAT team, we almost fell off of our chair.
Aren't they the enthusiastic men and women you see abseiling from helicopters, smashing through windows and throwing stun grenades during counter-terrorism operations? What business does an NHS hospital have with them?
'We had no idea things had got so bad'
In these cash strapped times we were aware some FTs were exploring innovative ways to bring in non-clinical income, but we had no idea things had got so bad. Or was this the latest manifestation of "robust performance management" in the NHS?
When we actually got round to reading the press release, we found out it actually stands for South Warwickshire Accelerated Transfer Team - a team dedicated to the fast recovery of patients undergoing orthopaedic surgery.
Far more sensible we suppose, but End Game can't help feeling a little underwhelmed.
Tweet in the house
It was with a heavy heart that End Game observed Norman Lamb bowing out of the DH after the Liberal Democrats' election catastrophe.
We weren't the only ones. Jeremy Hunt took to Twitter to wave a fond farewell to his old amigo, whom he described as "a gentleman and real pleasure to work with". A sad sight to see the Butch Cassidy and Sundance Kid of health policy go their separate ways.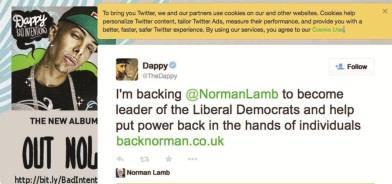 But Norman has moved on to bigger and better things, having put himself forward for the Lib Dems' leadership race.
He's already amassing formidable support, with N-Dubz singer Dappy endorsing him on Twitter (see above).
Having also been instrumental in funding the career of grime artist Tinchy Strider - really - Norman appears to already have the important Lib Dem/Radio 1 Xtra crossover vote all but sewn up.
Your move, Tim Farron.
End Game: Ministers for plague and sunscreen
1

Currently reading

End Game: Ministers for plague and sunscreen

2