End Game debates whether being an NHS 'business manager' can be as glamorous as the life of a roadie while an intern at the helm of one trust's Twitter account unwittingly threw purdah out the window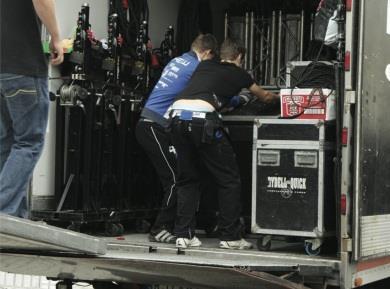 We don't really know what the job of a "business manager" involves at NHS England, but we think it sounds fairly senior - "business" is important and "managing stuff" involves responsibility and decision making.
What we're fairly sure of is that it does not involve being a roadie.
'It does not involve being a roadie'
Discretion prevents us from naming names, but rumour reaches End Game that one put-upon business manager has been spotted following a senior NHS leader around lugging their bass guitar for them.
Rebranding A&E?
How can we stop so many people going to hospital accident and emergency departments when they don't have to?
This question has been perplexing the finest minds in health policy for a few years, but now a top marketing guru has an answer.
'At least there's one company happy to help'
Rory Sutherland, vice chair of marketing firm Ogilvy & Mather, told a conference last week that A&E should be rebranded to - wait for it - "accident and emergency". Er… hang on, isn't that what it's called already? But if the NHS is to embark on this postmodern non-rebrand, at least there's one company happy to help.
Safe steps
End Game sends our best wishes to Sir Simon Wessely, president of the Royal College of Psychiatrists. He's currently recovering from a fractured metatarsal after slipping down some stairs.
'The papers came from the National Patient Safety Agency'
End Game hears on the grapevine that the professor's fall was precipitated by a pile of documents clumsily left on the steps in his house. And where did these papers
come from? The National Patient Safety Agency, that's where.
Such accidents happen to the best of us Sir Simon - get well soon.
Reincarnation at its best
End Game loves a spooky tale, and we heard a corker recently.
Fifty-four years ago, no doubt on a dark and stormy night, the then president of the British Medical Association passed away while staying in BMA accommodation.
Not spine chilling on its own, but wait for the kicker - the distinguished president shuffled off this mortal coil on the very night Mark Porter, the current BMA chair, was born.
Dr Porter is apparently sufficiently freaked out by the uncanny synchronicity that when he stays overnight in London, he books into a hotel rather than risking a night in the possibly cursed accommodation.
'What if Dr Porter is fated to be reincarnated as various bigwigs in BMA?'
End Game has two potential explanations. The first is that it is a pure coincidence. However, what if Dr Porter, like the protagonists in the David Mitchell novel Cloud Atlas, is fated to be reincarnated as various bigwigs in the BMA in perpetuity?
One thing is for certain: End Game is glad that we have people of such cool, unimpeachable, evidence based rationality at the top of the UK medical establishment.
A small mishap
Purdah is an anxious time for everyone across the health service, especially trust managers.
The period during which public bodies are forbidden from uttering a single word that might "prejudice" the outcome of the election has seen more clamming up than a bag of rotten mussels.
However, End Game was in awe of one trust that punched holes through the agreed vow of silence by broadcasting its support for the Green Party.
'End Game was in awe of one trust that punched holes through the agreed vow of silence'
The message of support was accidentally sent out by a student on work experience at Worcestershire Health and Care Trust. The unfortunate intern, Grant, who possibly thought he was tweeting from his own account, wrote: "Which party would you all like to be elected this month? I'm @greenparty_ie because I like their policies most!"
As if that wasn't mishap enough, the poor lad unwittingly entered the Twitter handle of the Irish Green Party. As the images on the right show, impartial normality was
soon restored.